Korpsånd –
Black metal-heresy should be praised! (interview)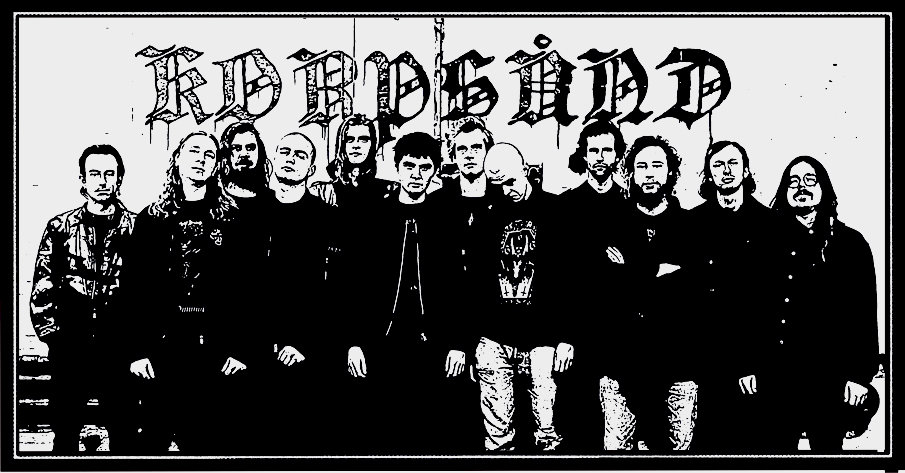 By Simon Christensen
In February this year the American tape label Fallow Field sent out a double cassette tape with a collection of new Danish black metal under the name Korpsånd, "an introduction to new wave of raw DKBM". Korpsånd (en: corpse+spirit) that connotates both a brotherhood and rising from the dead, is a term coined by Jesper Bagger Hviid, musician, sound engineer and caretaker at the venue/rehearsing space Mayhem, and Emil Toft, musician and half of the label Hævngær.
Later "Korpsånd" was released on CD by Tour de Garde and it is now finally seeing a double-LP release in the winter as a conclusion of a great year, that also saw Korpsånd represented at the Festival of Endless Gratitude, touring abroad and playing several concerts at Mayhem in Ragnhildsgade.
However, despite the connotations to a brotherhood Korpsånd is neither the end nor the only means of this group of people who have also seen a number of international releases and individual paths through other genres than black metal. Rather it could be viewed as a banner for a series of black metal-bands who share a recording studio, a set of aesthetics and belong to the noise/experimental scene of Mayhem. Although they don't see themselves as part of a greater metal scene in Copenhagen, Korpsånd have connections to other diy-establishments like Kill Town Death Fest, Extremely Rotten Store, Night Shroud Records, fellow Mayhem-band Slægt and the new label Nattetale.
How and where did you actually meet and when did you form this group?
Emil: "Before our bands started to affiliate there was a sort of void in the Copenhagen BM scene. I think we all shared a dissatisfaction with the contemporary metal and punk scene in Copenhagen, and of course a shared interest in wide variety of music. I believe the idea for the compilation spawned out of a show Lesion, Afkald, Blot & Bod, and Vaabnet played at Mayhem. The compilation was a good opportunity to start new projects, most of which have continued to make music since."
Can you explain in more practical terms, what the core of Korpsånd is? Is it 12 people in a rehearsal space, or what is it exactly?
Jesper: "Not exactly. Korpsånd is merely the banner under which we move for now. Our studio at Mayhem, which is also the rehearsal space for every band that Erik, Jølle and I are in, has become the center of the group. This is where I record everything we release, but people are connected to different rehearsal spaces all over the city. Our group is tightly knit and rather few people make up a lot of different projects. For now, the Korpsånd banner still makes sense."
In terms of artistic output and sound production, what is your common ethos and what is different among the members of the group? Listening to the compilation itself shows a variation within that black metal idiom. How do you see that? And some individuals even plays in other non-dkbm bands and projects, is that not considered heresy anymore?
Jesper: "I don't even think we have a common ethos. We are all very different, yet very good friends. Every project has its own distinct life. This of course derives from the specific constellation of members and the common ground they establish.
The black metal idiom is extremely elastic. As are the agents within. Amongst the people of Korpsånd, there are people active in death metal, techno, power electronics, noise, abstract electronics and experimental music in general. Heresy should be praised!"
Listen to the compilation in full here: Læs resten