WANDA GROUP –
"IT IS WHAT IT IS AT THE TIME THAT IT IS"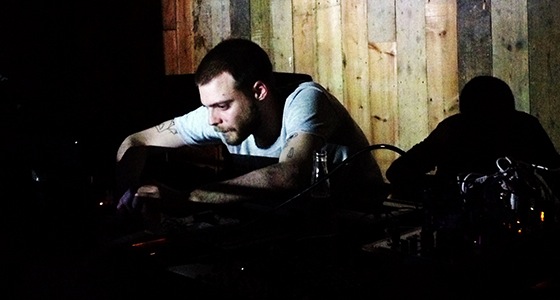 Af Andreas Syr

The music of Brighton based musician and artist Louis Johnstone is not easily grasped and held on to. Especially not in words. As WANDA GROUP he has released a barrage of damaged ambient music on labels such as Opal Tapes, Vlek and, most recently, NNA Tapes which has just released his latest record, the ominously titled "A Slab About Being Held Captive". The disembodied drones, fragmented beats and hissing, crackling field recordings that Johnstone assembles into murky collages, has made people compare him to everything from Iannis Xenakis to The Caretaker, but as this interview clearly shows, WANDA GROUP is a musical entity entirely of its own making.
The new mix "A GANG NOT WORTH SHIT" that he's created for Passive/Aggressive (which is really not so much a mix as a completely new composition) perfectly showcases the strange romance of his noisy assemblages: The harsh and melancholic edifices of found and manipulated sounds that WANDA GROUP erects are both alien and strangely familiar, like half-remembered dreams – and it is in the thousand cracks and fissures between the parts that the world and human experience seeps through and lights them in a soft, organic glow. We also asked him a couple of questions about his work, life and artistic practice, which it turned out was hard to distinguish from one another…
P/A: How is your music made, and on what kind of equipment?
Louis: IN A REAL BORING FASHION, I THINK. MORE RECENTLY I THINK IT INVOLVES ME LIMITING MYSELF TO USING TINY SECTIONS OF THINGS I HAVE RECORDED. IT TENDS TO BE ME GOING SOMEWHERE EXCITING (TO ME, NOT TO OTHER PEOPLE). MAYBE A WALK SOMEWHERE I HAVE NOT BEEN TO BEFORE. I THEN TAKE MY LITTLE TAPE RECORDER AND RECORD SOME STUFF. FIREWORKS OR ME WALKING OR THE WIND BLOWING AGAINST A BUILDING OR SOME FELLA HAVING A SHIT BEHIND A CHURCH OR A FIAT IN A TOWN CENTRE I HAVE NEVER BEEN TO BEFORE. ALSO MAYBE A BOAT GOING SLOWLY ACROSS AN OCEAN AS THE SUN HITS DOWN ON ME. MAYBE SOME ENGLISH PEOPLE SCREAMING AT IMMIGRANTS. I THEN JUST BRING IT BACK TO MY LITTLE LAPTOP AND GO FROM THERE. I CUT STUFF UP. I PUT SOME INTO THE COMPUTER AND SING WITH IT OR PUSH SOME BUTTONS ON A BLACK DEVICE AND THEN SING WITH IT. I DUNNO. IT JUST COMES OUT, I THINK. IT IS WHAT IT IS AT THE TIME THAT IT IS (HOW IS THAT FOR A SENTENCE?).
P/A: Is there a process that you always or usually apply when making your music, and is it similar to the way you work with your visual art?
I GUESS THE PROCESS IS TO NOT LET MYSELF GET IN THE WAY TOO MUCH. NOT IN SOME SENSE THAT I LET THE LAPTOP SIT WITH A TREE AND LET THE COMPUTER AND THE TREE DO ALL THE WORK. MORE IN THE SENSE THAT I TRY TO NOT LET MY STUPID LIFE ANGER OR THOUGHTS CLOUD TOO MUCH OF THE MUSIC. SOMETIMES IT DOES AND IT BECOMES WHATEVER. I TRY TO LET MUSIC BE THE COMPLETE THING IN MY LIFE THAT STOPS ME WORRYING ABOUT THE OTHER STUFF. NOT REALLY SURE HOW TO PUT IT DOWN IN WORDS BUT I THINK PEOPLE WILL GET THE IDEA. I GUESS IT'S A MEDITATION THING. I HAVE NO CLUE HOW TO MEDITATE SO I THINK THIS MUSIC THING BECOMES MY SOUL CLEANER. VISUAL STUFF IS THE SAME. I JUST WANT TO MAKE STUFF. THAT IS IT. SINCE I WAS A LITTLE BOY. MAKING STUFF IN MY ROOM LIKE A BOWL WITH SOME GRASS IN IT. MAKE YOUR OWN LITTLE FOREST. MAYBE PRETEND A SHARK IS IN THE BATH WITH YOU AND YOU HAVE TO WORK OUT HOW TO GET AWAY FROM THE SHARK (NOT IN A SEXUAL WAY (IN A SEXUAL WAY)). I DUNNO. IT IS WHAT IT IS LIKE I SAID ABOVE (NOT SO GOOD NOW I USED THAT TYPE OF SENTENCE ALREADY)
P/A: Your tracks obviously consist of many parts, but especially the newer ones are also very well-structured. What is your approach to structure, and how do you work with it?
USUALLY AGAIN I JUST START AND THEN MOVE FORWARD (LOU, I THINK THAT IS WHAT EVERYONE FUCKIN DOES, YOU IDIOT) BUT I GUESS YOU KNOW. YOU FUCKIN JUST CREATE OR MAKE STUFF. I MENTIONED SOMEWHERE ELSE THAT I WORK WITH TIME. I TRY TO HAVE AN IDEA OF HOW LONG THE PIECE OF MUSIC WILL BE BEFORE I FINISH IT. THEN I HAVE A BUILDING BLOCK. I KNOW I HAVE THIS TIME FRAME TO GET INSIDE OF. I THEN JUST GO FOR IT. COULD TAKE A MONTH OR IT COULD TAKE 20 MINUTES. IF THE PIECE IS TWENTY MINUTES, THEN FUCK KNOWS. IT COULD TAKE A YEAR. LIKE NAPOLEON SAID 'WHEN A RECORD IS FINISHED, IT IS FINISHED. YOU KNOW. NOBODY ELSE KNOWS A FUCKIN THING'. THE HARD PART IS GIVING IT TO SOMEONE ELSE. LIKE GIVING A BABY YOU LOVE TO THE GROUND OR GOD (IF YOU BELIEVE IN THAT SHIT).
P/A: It seems there are always (at least faint outlines of) contextual themes on your releases. Could you elaborate a little on this? And what is the theme of your newest record, "A Slab About Being Held Captive"?
THE THEME THING IS JUST TO GET ME STARTED OR GET ME MOVING, I THINK. I LIKE TO TRY AND HAVE AN OUTLINE OF WHERE I AM GONNA GO OR WHAT I AM GOING TO DO FOR EACH NEXT PIECE/RECORD/PROJECT/OBJECT/ETC. USUALLY IT INVOLVES FAMILY OR FRIENDS OR ANIMALS THAT HAVE BEEN IN MY LIFE. NOT SURE WHY. MAYBE BECAUSE I HOLD THEM THINGS CLOSER AND I GUESS THEY GET BURIED RIGHT IN THE BRAIN OR BODY. 'A SLAB ABOUT…' IS NOT THAT HARD TO WORK OUT. I HAVE ONLY TOLD ONE PERSON THE MEANING BEHIND THIS RECORD AND I THINK I MIGHT KEEP IT THAT WAY. NOT IN A 'LOOK AT ME BEING A SECRETIVE PRETENTIOUS CUNT' BUT MORE IN THE WAY THAT I KNOW THERE IS A PERSON OUT THERE THAT I LOVE WHO KNOWS WHAT THIS RECORD IS ABOUT. IT IS NOT ABOUT NICE THINGS. IT IS NOT ABOUT FLOWERS GROWING FROM THE ROOF OF A BEAUTIFUL HOUSE (COULD BE, THOUGH). I GUESS IT'S LIKE HAVING HALF A HEART NECKLACE AND THE OTHER PERSON HAS THE OTHER PART. IT IS PRETTY EASY TO WORK OUT THE MEANING IF YOU HAVE A THINK, THOUGH.
P/A: The thing that initially struck me most about "A Slab…" is the sound of the gulls – Is there a strong relation between your music and the place where you live?
THE THING WITH THESE BIRDS IS THEY NEVER STOP. NO MATTER WHERE I TAKE MY SOUND RECORDER IN THE AREA THAT I LIVE, THESE THINGS WILL BE THERE. HANGING ABOVE SCREAMING. I GUESS THE MAIN REASON THEY TURN UP IS BECAUSE THEY ARE FUCKIN ALWAYS THERE. LIKE A WHITE TINY GHOST JUST SITTING ON YOUR SHOULDER. SOMETIMES I CAN GET WITH THEM BUT MOSTLY THEY JUST FUCKIN DO MY HEAD IN.
P/A: Speaking of place – your cover art almost always makes me think of rocks, glaciers and the slow, geological ageing of the world. A slowness which I think is present in your music as well, even as it is constantly changing. What are your thoughts on speed and time in music (and perhaps in general)?
NOT SURE ABOUT THE WHOLE TIME THING. I GUESS YOU JUST GET ON WITH WHAT YOU HAVE, AND TIME DOES ITS THING. SOMETIMES IT BOTHERS ME. THE FACT THAT IT ALWAYS MOVES BUT I GUESS WE CREATED THAT WORRY OURSELVES. THE CONSTANT NEED TO IMPROVE OR EXPERIENCE NEW THINGS BEFORE WE BECOME SOME ITEM OF NOTHING. I GUESS ME JUST MAKING MUSIC IS A THING I LOVE TO DO, AND IT GIVES MY LITTLE LIFE AND TIME ON THIS EARTH SOME PLEASURE OR SENSE OF NEED. SPEED NEEDS TO SLOW DOWN AND SO DO I AT CERTAIN POINTS. I AM PRETTY FAST WITH WHAT I DO. I DIVE IN AND THEN GET TO WORK. SOMETIMES I AM PATIENT. I LET IT ALL SIT AND REST AND SINK INTO WHERE IT SHOULD SINK. IT CHANGES ALL THE TIME AND I GUESS THAT IS THE FUCKIN POINT OF TIME.
P/A: I think there is a sense of time, but also very much a sense of memory in all of your music. I think it has to do with the way the fragments and motifs come into being and dissappear again, just as you're beginning to grasp them – in a way which I think is very similar to remembering. Is this something you consciously work with?
I THINK IT IS PROBABLY THE WAY I CUT THINGS UP OR WORK IN SECTIONS (AS MENTIONED PREVIOUSLY). IT WOULD BE NICE TO THINK I CONSCIOUSLY DO ALL THIS WONDERFUL STUFF BUT I THINK IT JUST IS WHAT IT IS. ACCIDENTS OR SECTIONS THAT NEVER WORKED SO I THEN NEED TO MAKE ANOTHER SECTION TO EXTEND THE PREVIOUS ONE. ALSO I THINK MAYBE IT'S LIKE CREATING A MASSIVE PLOT HOLE AND THEN HAVING TO WORK YOURSELF OUT OF IT. LIKE GOING UP TO A TOUGH LAD AND GIVING HIM SOME SHIT AND THEN HAVING TO WORK YOUR WAY OUT OF THE SITUATION. YOU COULD JUST NUT THE CUNT BUT I GUESS YOU COULD COME AT IT FROM A DIFFERENT ANGLE. TRY TO TALK YOUR WAY OUT OF IT OR EVEN BECOME FRIENDS. THE OPTIONS OF LIFE ARE GREAT WHEN YOU SLOW IT ALL DOWN. FUCK KNOWS WHAT I AM GOING ON ABOUT NOW?
P/A: You've been very prolific as an artist, but even more so on Twitter. Is there a relation between how your music is made, and the kind of communication that characterizes social media?
NO RELATION IN MY MIND. TWITTER IS JUST FUN. A NICE WAY TO TELL A FEW STORIES OR HAVE A MESS AROUND. SIT DOWN WITH A NICE DRINK AND WRITE SOME SHIT. NOTHING MORE. NICE WAY TO SPEAK TO PEOPLE IN THIS COLD DIGITAL CAVE WORLD. I HAVE SAID BEFORE THAT I SHOULD SAVE ALL THESE LITTLE STORIES AND WRITE IN A BOOK OR DO SOMETHING DECENT WITH THEM, BUT WHAT IS THE POINT? ONCE IT IS OUT THERE, IT IS OUT THERE. NO DIFFERENCE. I AIN'T GONNA MAKE SOME POOR CUNT PAY FOR A COUPLE OF STORIES ABOUT THE SUN SHINING DOWN ON A SHARK AS THE SHARK LOOKS AT THE SHORE FROM THE OCEAN.
P/A: When you look at the way electronic music has developed in the last couple of years, and especially the way that abstract, noisy and lo-fi experimental music has permeated club-oriented techno and house (and vice-versa), it is almost too easy to regard your work as being part of a scene centered around such labels as PAN and Opal Tapes. Do you feel that this is true? Does your music consciously engage with the limits and cross-pollination of established genres?
I NEVER SEND SHIT TO ANY LABELS OR ANYTHING LIKE THAT. I NEVER HAVE. THE LABEL OR PERSON CONTACTS ME IF THEY WANT TO DO SOMETHING. WITH OPAL I GUESS STEVE HEARD SOME STUFF I DID, AND I MADE HIM A RECORD. SAME WITH ALL THE OTHER PEOPLE. NNA THE SAME. ALL AMAZING PEOPLE, AND I WILL BE HAPPY TO WORK WITH THEM FOREVER AND EVER IN THE FUTURE. THE CLUB THING I KNOW NOTHING ABOUT. I HAVE NOT REALLY BEEN TOO DEEP INTO THE CLUB THING. I AM MORE THE SORT OF CUNT WHO SITS AT HOME ON HIS BED WITH A BIG DRINK OR SOME DRUGS AND THEN JUST LET THE NIGHT DO ITS THING. IT IS WONDERFUL HOW PEOPLE ARE GETTING DEEPER WITH THE MUSIC OR MAYBE PEOPLE AS LISTENERS ARE GETTING DEEPER WHICH NOW GIVES THE ARTISTS MORE CHANCE AT GETTING OUT THERE. THIS SHIT HAS ALWAYS BEEN ABOUT, AND I THINK ALL OF US WHO GIVE A SHIT WILL ALSO ALWAYS BE ABOUT. WELL NOT ALWAYS BECAUSE UNLESS WE GET FROZEN AND COME BACK LATER, WE ARE GONNA DIE. A NICE BIG DEATH.
I JUST MAKE THE STUFF HOW I WANT TO MAKE IT AND IF PEOPLE GET INTO IT THEN THAT IS WONDERFUL. I AINT GONNA STOP MAKING IT. NO CHANCE. I AINT FUCKIN GOING ANYWHERE.
EVERYONE LOOK AFTER EACH OTHER AS MUCH AS YOU CAN BECAUSE WHEN THAT BIG LONG SLEEP TURNS UP THEN NOTHING IS GONNA MATTER (I GUESS THAT MIGHT BE A REASON TO ACT LIKE A CUNT, THOUGH) (DON'T, THOUGH))
previous post: Simon Tornby –

Introduktion til det storslåede danske soundtrack projekt (mixtape)