Run the Jewels –
En hiphopsymbiose med kurs mod legendestatus
Tweet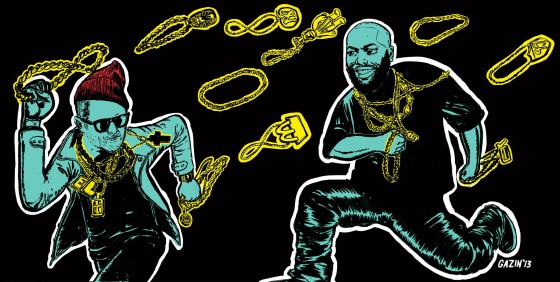 Af Jeelsmark
Ingen havde nogensinde regnet med, at Run the Jewels ville være verdens mest omtalte hiphopduo i år 2014, ingen. Og på papiret er der heller ikke meget, der taler for, at El-P og Killer Mike nogensinde skulle have skabt et så vitalt samarbejde, som de på stort set ingen tid har. Dybt fra Def Jux' progressive, eksperimenterende mørkebeats trådte El-P i slutningen af halvfemserne frem som den ultimative frontfigur for, hvad man i mangel af bedre ord kaldte "alternativ hiphop", imens Killer Mike samtidig var med til at definere southern hiphop i Atlanta uden på noget tidspunkt selv at træde frem i rampelyset som vennerne i Outkast.
Men i 2012 allierede de to herrer sig, da El-P producerede Mikes fremragende "R.A.P. Music", og i 2013 blev det så til duoen Run the Jewels, der med deres anden plade, "Run the Jewels 2″, nærmer sig den liga, der hedder GangStarr, Pete Rock & C. L. Smooth og Boogie Down Productions. Så stort er det. Så indflydelsesrigt kan det blive.
"Run the Jewels 2″ er meget El-P-lydende på den måde, man er vant til fra "Fantastic Damage" og "You'll Sleep When You're Dead": Beatsene kommer fra dybet, og de skærer og hvirvler, lige så meget som de pumper, men samspillet mellem disse og Killer Mikes politiske staccato-aggressioner hiver alt op på et meget højt niveau. El-P er som sædvanlig ret fuck everything, men han har også fået en leg med ind over sin alvor, der klæder ham og klæder Run the Jewels som helhed. Tilbage står gruppen som den hidtil flotteste symbiose mellem under- og overgrund i moderne hiphop.
De er allerede et fænomen, og hvis du vil nå at se dem, inden alting eksploderer endnu mere, kan du stadig nå det, når de gæster Pumpehuset i denne uge. Hiphop (live og på plade; alternativt og mainstream) fås ikke meget bedre lige nu.
Info: Run The Jewels spiller i Pumpehuset d. 19. december: RSVP.
previous post: Danish Vaishyas –

Fri musik ud over de aalborgensiske betonbalkoner