Salvia Plath –
monokromt psychpop-skyggespil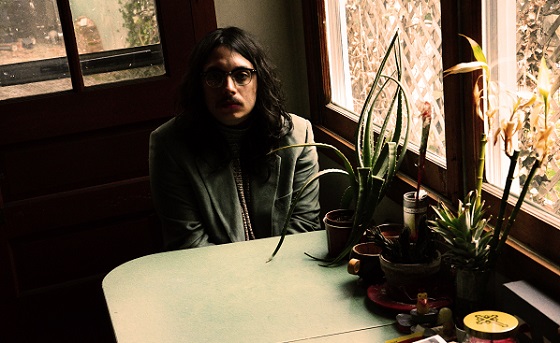 For et par år siden dukkede et par dubstep-douchebags op og begyndte at lave musik under samme fjollede navn, Run DMT, som den eksperimenterende psychpop-troldmand Michael Collins. De truede endda med at trademarke navnet og sagsøge folk, der uploadede Collins' musik som Run DMT (…flinke fyre!). Collins tog konsekvensen og efter to gode collage-popalbum, har han skiftet navn til Salvia Plath og er klar med nyt album til juli.
Mens han endnu ikke har skrinlagt sin hang til fjollede bandnavne (ordspil over forfatteren Sylvia Plath og den psykoaktive plante Salvia), er den første musik fra Salvia Plath dog anerledes alvorsfuld. På "The Bardo States" leder de dissonante strygere og spartanske tamburinklask unægteligt tankerne hen på Velvet Undergrounds psykedeliske avantgarde-pop.
Den hårdt plukkede, bluesede basgang er sammen med de sparsomme, repeterende vokaler samt orgelet til sidst de eneste melodiske fikspunkter, hvilket giver sangen en monokrom, filmisk aura. Tordenbragene i baggrunden og sangens slowmotion-tempo får skyggespil af begravelsesoptog til at danse frem på nethinden, og sangens titel henviser da også til det hinsides:
"The Bardo states, a Tibetan Buddhist state of consciousness between our lives on earth, mirror the tension and acceptance in both the song and the video. This extended purgatory, where men persistently wander, smoke cigarettes, and comb their hair, is an ode to the mundane. In order to reach the next world, man must embrace the world in which he currently resides." – Ad Hoc
Info: "The Bardo Story" udkommer den 8. juli via Domino-imprintet Weird World, (Peaking Lights, Melody's Echo Chamber, Smith Westerns . m.fl), hvor også Washed Out udgiver sine næste psykedeliske, men anderledes (p)optimistiske sange.
previous post: Goodiepal –

fra præ-stenalderen til langt ind i fremtiden