En omtåget gåtur i kamæleonske farveskift –
interview med Crystal Stilts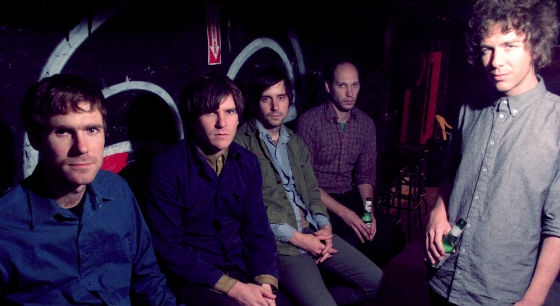 Af Andreas Melchior
New York-kvintetten Crystal Stilts, der gæster Danmark i midten af november, er aktuel med sin tredje LP, den formidable Nature Noir. Crystal Stilts er som udgangspunkt stadig garagerockende postpunk, indhyllet i katedralsk rumklang og et vibrerende håndtryk fra midt-60'ernes rhythm & blues, men har på dette album lejlighedsvist lettet en anelse af trykket på reverb-pedalen.
Forsanger Brad Hargett er kendt for sin afgrundsdybe vokal, som her, frarøvet rumklangens betryggende lag, fremstår skiftevis resigneret og trodsig. JB Townsends diskante op-ned-op-anslag på guitaren, får, sammen med enkle orgelflader, klimprende Nicky Hopkins-piano, egenrådige basmønstre og accentuerede trommer, fortsat ørerne til at skælve. Nature Noir sammensætter ruinerne fra de tidligere udgivelsers massive mur af lyd til nye, foranderlige konstruktioner. Vi tog en snak med bandet om det nye album.
You've changed your sound a bit on this record. Less effects on the instruments which makes the actual playing stand out more. It might be a cliché but it makes your sound seem a bit more vulnerable and earthy. Was this a conscious choice, or did it just sort of happen?
Kyle Forester (keyboard): I like your adjectives. I would not say that there was a conscious decision to use less of any particular effects, although maybe there were just some more songs that called for less of some of the effects that were called for more of on the previous records.
JB: I think there's quite a bit of effects on this record but they're more carefully applied as opposed to big blankets of plate reverbs that are on the other two. Læs resten