Valby Vokalgruppe holder release og udsender prøver på "Bah New Era"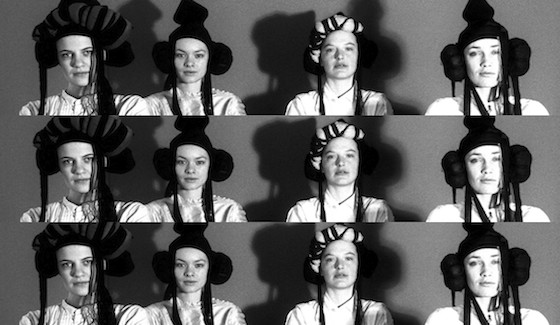 Steve Reich er det første, man tænker på, som det perkussive udgangspunkt for det eksperimenterende band Valby Vokalgruppe, her fra Vincent Moon-optagelsen fra 2010, hvor 10″-debuten "De Syv Mundes Fest" udkom. I denne uge udlever vokalgruppen så ganske andre drømme med den volapylakiske "Bah New Era", som udkommer på eget label Eget Værelse via bandleder Anja Jacobsen fra Selvhenter, ex-Kirsten Ketsjer, Frisk Frugt mm.
"Bah New Era" er et vildt og hjemmelavet legeplads-album med 8-bit, omkvæd, skæve taktarter, rumrejsen år 2001, bas- og guitarriffs, synthesizereoverflod, skøre samples og stemmer, der svæver ind og ud af harmoni, takt og tonalitet. Albummet præsenterer noget af et skifte af tilgang til dét at være et kor, men begrænser bestemt ikke rækkevidden – oh, det lover utroligt godt for et levende (og mindre kunstfældigt) liveshow. Kort sagt: doom-gospels, barnlige fraseringer og computermusik med Oliver Hoiness og Anja Jacobsen ved roret.
"Valby Vokalgruppe was formed as an experiment into what it is possible to do with the voice and with voices together. The compositions are made partly from improvisations and partly by the leader of the choir Anja Jacobsen. They are based on sounds, rythmical patterns and very close harmonics." (via egetværelse.dk)
Medlemmer på albummet:Lil Lacy, Sonja LaBianca, Cæcilie Trier, Anja Jacobsen, Oliver Hoiness – samt Toke Tietze Mortensen på elektronik på nummeret "Bah". Tidligere medlemmer tæller Maria Bertel, Jaleh Negari, Maja Zander Fisker, Felia Gram-Hanssen, Irmelin Gram-Hanssen, Maria Diekmann og produktion af Anders Lauge Meldgaard.
Info: Valby Vokalgruppe "Bah New Era" releasefest den 11. september på Mayhem: Valby Vokalgruppe, Jeppe Zeeberg, Gustavo Rey + DJ Kondituque (RSVP).
previous post: Getatchew Mekuria og The Ex –

til minde om løven