Zone Collective –
Thoughts on how to transgress the algorithms (interview)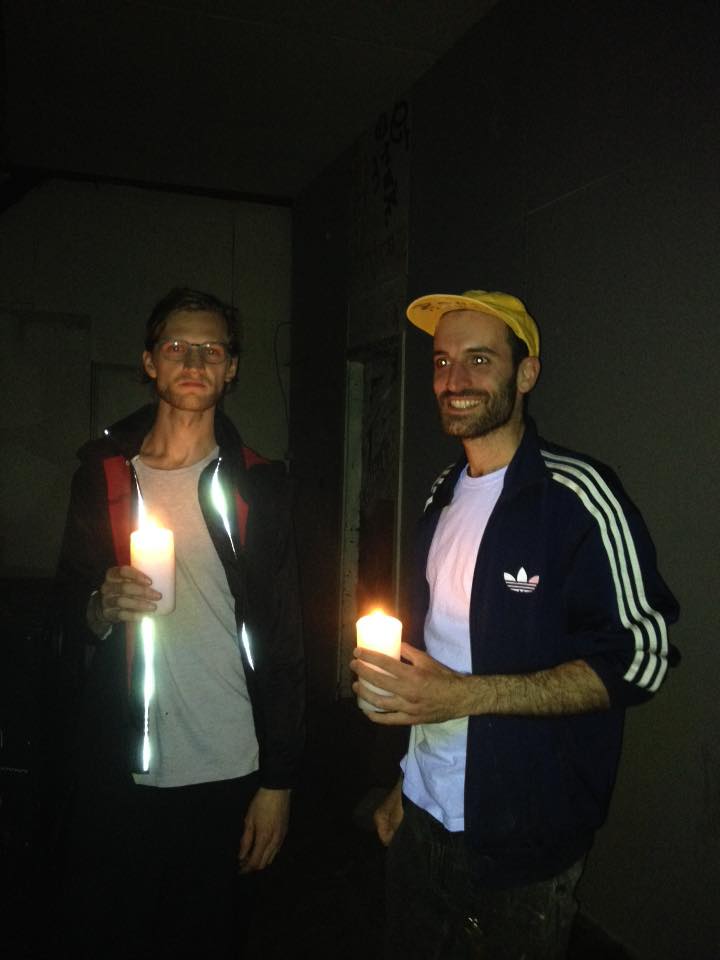 By Simon Christensen – Photo: Stole it from your Facebook, sorry!
Contributing to a warm and immigration friendly climate in the musical underground, the electronic- and avantgarde-scenes of Copenhagen have been a hub for a lot of great people stopping by Denmark for longer or shorter periods of time. It's not necessarily a public secret, but, to me at least, it's something to bear in mind, when I choose my parties.
One of the more overlooked Copenhagen-based organisers is the open collective called ZONE, run by musicians and art school-friends Toby Ridler and Lorenzo Tebano. Toby still lives in Berlin, but is moving to Copenhagen this summer. Zone Collective have been setting up concerts and club nights in Glasgow, London, around the UK, and during the past year touring Europe out of the Copenhagen-base, where Mayhem has been their main playground in public.
"Zone Collective is so far mainly run by Toby and Lorenzo, we just want to support our friends, and not have to deal with the bullshit industry that suffocates and torments a lot of peoples artistic practices. We are inclusive, and always open to meeting new and like-minded artists that are serious about what they do, and care about the community and context that we enter into when sharing ideas, art and music.
So many scenes are spoilt for choice, and it can be intimidating, feeling like you're treading on people's toes, or taking light away from the seasoned players. We say 'fuck that'. Just because you don't have the money or contacts or feel like you aren't needed, or appreciated… We want to give people the motivation to tread all over bigger players' toes, Facebook algorithms shouldn't stop you, likes and shares don't mean anything when you are committed to doing things with friends that support you. Kill your idols!"
This week the Zone Collective release their first tape-compilation, which is premiered in this feature for the first time in full length, counting friends like Sue Zuki and Kleft (an alias for Vickie McDonald) from Glasgow, Mun Sing from the Bristol-duo Giant Swan, Mayhem-resident Sortsyn (aka Ejving Chang), as well as Ridler and Tebano themselves performing under their own aliases.
In an earlier incarnation Zone Collective have been connecting "the dots between techno, noise and sound design", lately they have labelled themselves as bridging "experimental futurist punk and noir acid pop", but whatever way one needs to describe abstract music, the range of this new compilation is best characterized as an embrace of the current European diy-networks.
"The tape is a compilation of music from friends and musical criminals we have been working and putting on shows with over the last year or so. We mainly just work with our friends and these tracks were selected since they just really represent who we are as a body of anarchic musicians who want to push more abrasive sounds, electronic music with a punk spirit from people who care about and support each other, and are deeply committed to their artistic practices," Toby Ridler explains.
"Our 'vision' for Zone Collective in Copenhagen, is to contribute to the scene here, and to support artists that want to do the same, artists that find deep meaning and solace in making art, when the mainstream society seems all the more so to be running in a different direction. The reason why we have done all our shows at Mayhem is because of how open the space is for artists and musicians, not just to put on shows, but to be responsible for the running of the venue, to have the creative freedom to design the space as they/we want it and it also, I don't know why, but always seems to have the best vibe and people are always up for moving there bodies, and freeing themselves up to experience new things with open minds!"
Info: The release of Zone Collective "Compilation Vol 1." (another one is already in the works…) will be celebrated with multiple concerts at Mayhem featuring Mun Sing, Ridler, Sortsyn, LAF Tebano, Gel and Ro (Chris Shields) tonight, Friday April 27th (RSVP).
previous post: Francois Bayle og Christian Zanési –

Bølgende variationer og tusind små detaljer