Berlin Atonal 2017 –
Low-risk techno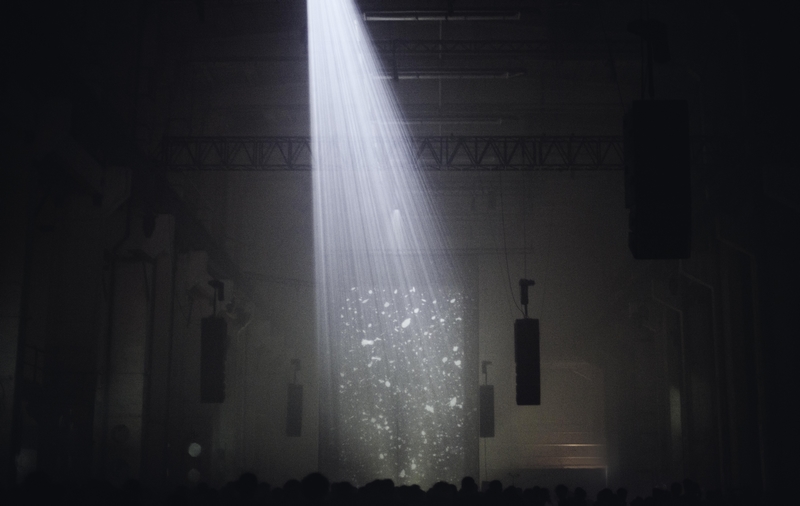 Berlin Atonal 2017, August 20th-24th – live report by Ivna Franić, photos: Camille Blake/Atonal
Berlin Atonal's second incarnation quickly gained the status of an industrial techno institution, bringing some of the strongest names in the game to perform exclusive sets in a unique setting year after year. Now in its fifth year, Atonal 2.0 starts to show signs that it might need to rethink its formula a bit.
A significant part of the programme takes place at the club spaces of OHM and Tresor, but the large industrial space of Kraftwerk undoubtedly makes for the centre of the festival. Attending this space, which could hardly be described as "comfy", is an experience in itself, although doing it for five days in a row can exhaust the powerful first impression.
Due to the spatial and genre limitations, Atonal poses some challenges before the artists performing, namely how to best make use of its monumental main hall without falling prey to it, and how to make their performance stand out in the sea of other top-notch techno experimentalists. As one would expect, some perform the task better than the others.
On Thursday evening, the supposed retired Serbian factory worker Abul Mogard played his first live set, hiding his true identity behind huge projection sheets (as seen on this article's top photo). His ambiance is gorgeous but also too gentle not to end up dispersed into the atmosphere of Kraftwerk Berlin.
Although a completely different type of show, Damien Dubrovnik's premiere of the "Great Many Arrows" live performance had a similar fate. Christian Stadsgaard and (especially) Loke Rahbek tried their best to deliver an ominous noise ritual, but didn't sound nearly as coherent or compelling as on their solid recent LP of the same name. Floating between impressions of Prurient and Xiu Xiu's Jamie Stewart, Rahbek's stage persona ended up feeling a bit too stiff for what seemed to be an attempt at an intense physical performance. The noise ultimately got eaten up by the large space, leaving an impression that the Posh Isolation bosses weren't quite prepared to take over the monolith main stage, and that the always reliable Demdike Stare might have been a better choice for the closing spot.
Damien Dubrovnik's labelmate Frederikke Hoffmeier aka Puce Mary, however, was more than ready to storm through Kraftwerk. Hoffmeier completely occupied the hollow industrial hall with hammering beats and harsh, abrasive sounds, all accompanied by a smart and highly effective light show that made use of the side areas. At the same time unrestrained and precise, her powerful, tectonic performance delivered what would prove to be one of the Atonal 2017's definite highlights. Its title, "A Feast Before the Drought", fortunately didn't signal a drought of quality in the forthcoming performances.
In the company of Main, Regis clearly felt at home in the old industrial complex, his stomping techno filling up every inch of space. Roly Porter's collaboration with Paul Jebanasam was even less forgiving, covering everything in heavy smoke and inescapably loud sounds.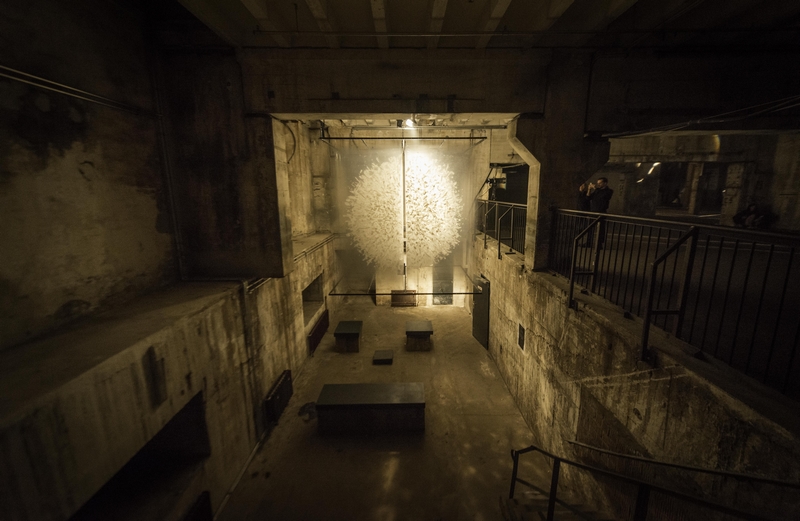 The following day brought a breath of fresh air into the somewhat tiring techno and noise landscape of Atonal. While Shackleton's joint effort with Anika didn't sound as exciting on record as, say, his collab with Vengeance Tenfold also released this year, the "Behind the Glass" live performance worked out great. Anika's trademark impassive vocal delivery turned out to gel quite well with Shackleton's trance-inducing electronics, evoking the ghostly hypnagogic explorations of the dearly missed Broadcast. They took a different approach from most of the festival acts: instead of trying to seize the venue space by loud volumes, they tried and succeeded at spreading their hypnotic sounds into all its pores.
Roll the Dice all but gently took us back into the typical Atonal darkness, albeit in a non-typical fashion. Malcolm Pardon and Peder Mannerfelt built a wall of synth noise, and along the way they provided probably the most impressive light show with numerous rays of reflector lights piercing through the entire hall while they jumped on the table and hit what looked like a big thunder sheet. If this is what "future basement jazz" sounds like, bring it on.
If there was one performance at this year's Atonal that didn't seem to entirely fit in, it was the premiere of the collaboration between Powell and Wolfgang Tillmans. And how refreshing that was! Tillmans recited lyrics that – in spite of there being a lyrics sheet – seem pretty random (not sure if we caught it right, but one of them sounded like he was repeating the line "Two men kissing" ad nauseam) over Powell's tongue-in-cheek electronics, while ridiculous images fluctuated over the large background screen, from cute animal pics to amusement park images or, erm, video of food leftovers in the sink. Channeling Happy Mondays or some other post-punk outfit, the relaxed and joyful pair provided a welcome break from the all-too-serious acts dominating the festival lineup, delivering the only performance that could be described as – fun. A small punk gesture goes a long way though, and the show had visibly split opinions leaving one part of the audience irritated and ready to make an early move to another stage. The other part, however, happily cheered along until the end, possibly dreading the return to the dark ground-level and underground areas designated for the (after) parties.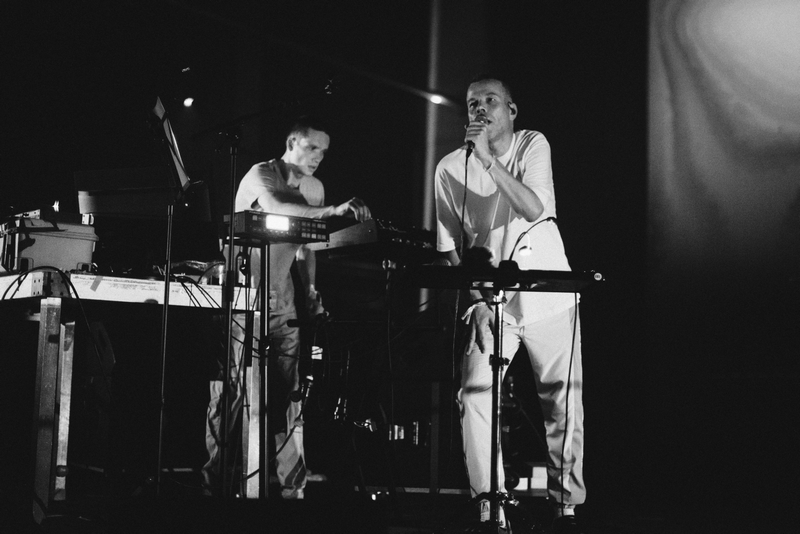 The hallways beneath the main stage, fortunately, also offered plenty of highlights. Due to a rather lame name, Hypnobeat were easy to miss on the artist list. Which is rather unfortunate since the latest phase of James Dean Brown's long-running project, which now includes the mighty Helena Hauff, proved to be an electronic music power-house. With an army of drum and synth machines on their side, the duo played a thrilling set that effortlessly ran through various stages of electro, acid and all kinds of rhythmical noise electronic music, before ending with a ruthless beat and content smiles on their faces. After that, Inga Mauer's set felt quite flat and conventional, although it might have worked excellently within a different running order, in another setting than the relatively light and cold space of Null Stage.
While Shifted was set to play the heavily crowded, or actually impenetrable basement labyrinth of Tresor, Peder Mannerfelt was slowly bringing what was likely the most exciting and most varied evening of the festival to its end on a high note. His ability to get the party crowd fist-pumping and screaming to the essentialy rather experimental techno sounds was unparalleled at this year's Atonal, and it's a shame we didn't get to see more audacious performances like this one during the festival's post-main-stage hours.
In fact, the lack of daring artist choices and highly repetitive lineups makes for Atonal's only problem. This year, the festival seemed to be playing it more safe than ever, and trying to get away with it by presenting "world premieres" and special audio-visual collaborations. While some of those performances were highly intriguing (like the Powell and Wolfgang Tillmans collab, or Puce Mary's mighty performance), and most of the established acts truly are the cream of the crop of dark and/or experimental techno, strict genre focus makes for a poor excuse for the ongoing lack of diversity in Atonal's lineups – it would have been even more exciting to see a more varied and less expected selection of acts getting a shot at the main stage.
Ultimately it feels as if the only reason to visit Berlin Atonal is simply to attend the remarkable venue at least once and add Atonal to your festival- or cool-Berlin-techno-stuff checklist. Although it offers more than enough of outstanding shows to make this visit worthwile, it also feels like it could use occasional refreshing and more willingness to take risks in order to make the festival more thrilling in the long run and more inviting for repeated visits.
previous post: Greg Fox –

Free form drummer ventures forth with Gradual Progression (interview)