Houndstooth –
Mørk musik til mørke tider (interview)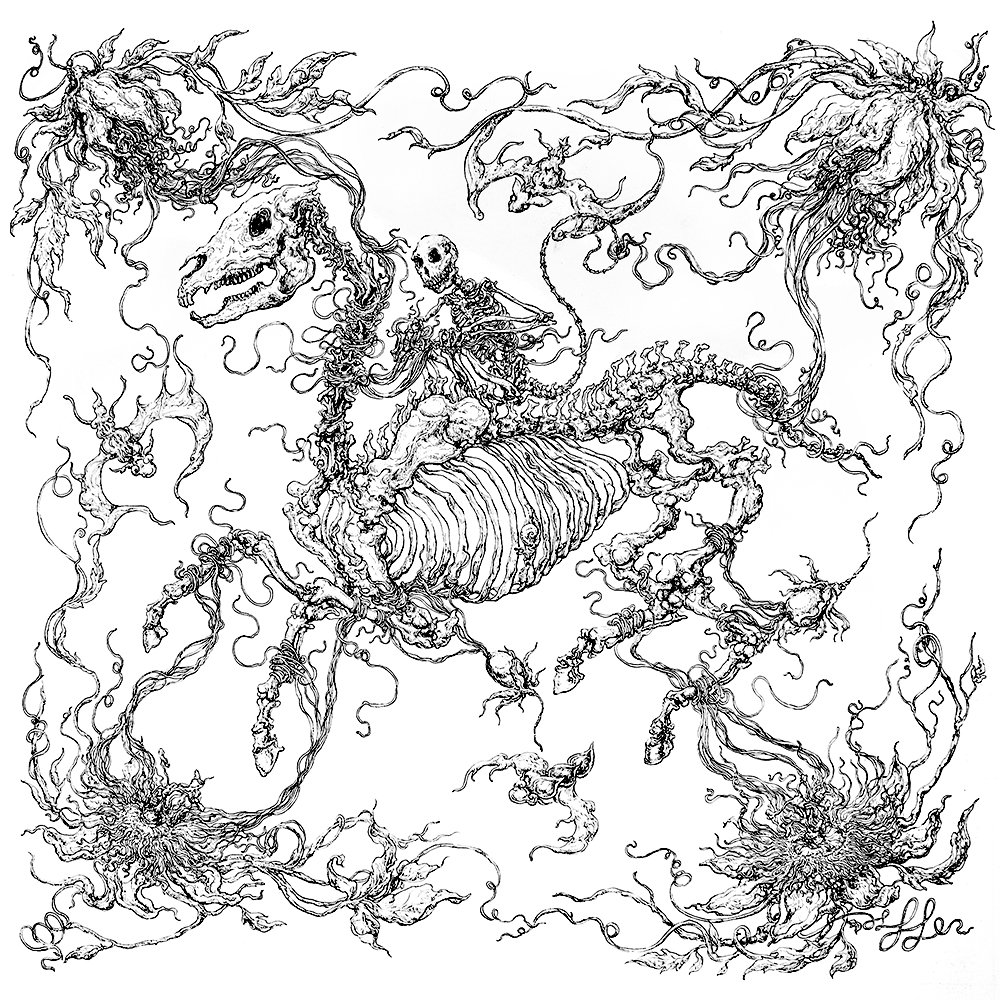 Af Alexander Julin
Det kan være svært for alvor at engagere sig i nye, lange opsamlingsudgivelser. Summen af de mange medvirkendes særegne udtryk kan meget let munde ud i, at man ikke tager notits af de enkelte kunstneres særegne lyd. Overfloden af forskellige udtryk kommer ikke altid de enkelte kompositioner til gode og kan let efterlade én med en følelse af simpelthen ikke at kunne orientere sig i mylderet af udtryk.
På samme vis kan opsamlinger, hvor de medvirkendes udtryk ligger tæt på hinanden æstetisk og stilistisk, resultere i, at de enkelte bidrag blot fremstår som minutiøse variationer af den samme tendentielle lyd.
Mindeværdige opsamlinger må i det mindste have en form for enten eksplicit eller implicit tematisk eller stilistisk fællesnævner for numrene, der samtidig giver plads til en grad af diversitet. Det er en balancegang, der ikke eksisterer nogen formel for. Alligevel er jeg ikke i tvivl, når det lykkes. Og det gør det på den nylige, 25 numre lange "In Death's Dream Kingdom" fra det britiske selskab Houndstooth, der bl.a. har stået bag flere af Call Supers og Aïsha Devis udgivelser.
"In Death's Dream Kingdom" er et såkaldt 'post-album'-projekt, der placerer sig et sted mellem en kompilation og en playliste. Imidlertid har udgivelsen i højere grad karakter af et sammenhængende værk end af blot at være en opsamling af numre, hvilket ikke er ulig udgivelsen "Mono No Aware" på PAN sidste år. Numrene på "In Death's Dream Kingdom" er løbende blevet uploadet på nettet og kan erhverves enten digitalt eller med et print af udgivelsens cover af Jazz Szu-Ying Chen, der fungerer som en slags "audio-visual artefact", hvorfor "In Death's Dream Kingdom" heller ikke blot er en digital udgivelse. Desuden har samtlige artister skabt deres værker med afsæt i T.S. Eliots digt "The Hollow Men", hvilket ligeledes gælder for Szu-Ying Chens artwork.
Uafhængigt af Houndstooths alternative overvejelser vedrørende format og udgivelse er "In Death's Dream Kingdom" et sammenhængende værk, der indeholder bidrag fra flere af senere års mest interessante elektroniske artister, heriblandt Lanark Artefax, Pan Daijing, Abul Mogard og Roly Porter.
Udgivelsen spænder mellem ambiente og dronede til mere technoide numre, ofte underspillede og alarmerende i deres udtryk. Houndstooth selv beskriver udgivelsen som "dark music for dark times", og bortset fra selskabets konceptuelle tanker, er det da også den gennemgående ildevarslende stemning, der er med til at binde de 25 numre sammen. I anledning af udgivelsen bringer vi et mini-interview med Houndstooths bagmænd, Rob Butterworth og Rob Booth, i et forsøg på at blive klogere på inspirationen bag og hensigten med udgivelsens format i denne streaming-æra.
P/A: You've stated that the release "represents a complete rethink about what it means to compile and commission music in the streaming era". Can you elaborate on what this rethinking consists in? In what sense does this "post-album project" vary from a playlist or a digital album compilation?
HT: "It's bigger in scope than a typical compilation, by giving the artists a theme to work with its more in line with a curated playlist, so we felt it sits somewhere between the two. Also the release structure of building the work by premiering new tracks daily until complete was something we hadn't seen done before. As there isn't much information about tracks available on streaming services we also had a dedicated microsite http://iddk.houndstoothlabel.com/ to be used in conjunction with playing the release so further information about the artist and track was available."
P/A: Why did you choose TS Eliot's poem "The Hollow Men" as the mandatory inspiration for the contributing artists?
HT: "We were looking for something that described the music but also gave scope for experimentation, we also wanted it to inspire deeper thought into its meaning. After much searching we came across this and felt it was a perfect fit."
P/A: How did you choose the artists on the release?
HT: "They were all artists we admired and had wanted to work with, we simply drew up a wish list. Luckily we not only got the ones we wanted but more besides."
P/A: What would you say are the strengths and weaknesses of digital releases in this so-called 'streaming-era'?
HT: "They allow much greater scope in duration which was important for a project like this. We're in a golden age of TV where viewers binge on hours of episodes, in a similar way we felt this longer form allowed listeners to enjoy as much or as little of the work as they wanted."
Info: In Death's Dream Kingdom er ude nu på Houndstooth.
previous post: Astrid Sonne & Xenia Xamanek Lopez –

Fotodagbog fra Japan