Festival of Endless Gratitude 2014 offentliggør den fulde karaktertegning
Tweet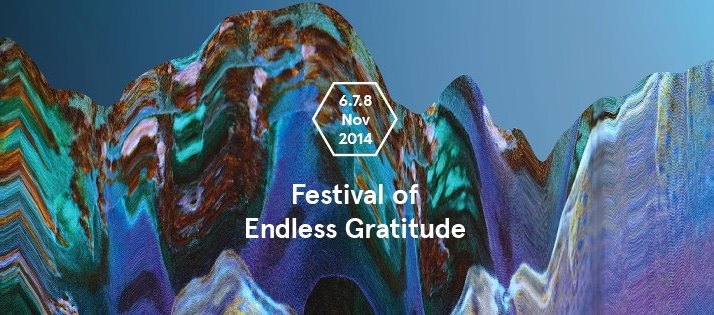 Af Simon Christensen
Den sædvanligvis forsinkede og fremragende kuraterede Festival of Endless Gratitude er klar med det fulde program, som fortsat balancerer kultikoner, den frie musik, internationale outsidere og dansk galskab.
Festivalens hovednavne er de tyske krautrock-eksperimentalister Faust, som giver sin første koncert nogensinde i København, den amerikanske komponist, minimalist & visuelle kunstner Charlemagne Palestine og franske Richard Pinhas, som var frontmand i Heldon i 70'erne, men hele programmet er så sige sprængfyldt af karakter. Størstedelen af de internationale navne har besøgt landet før – Cam Deas kommer med et nyt semi-elektronisk show, New England-musikeren John Levin spillede på den første Festival of Endless Gratitude i København i 2009, og mange af de andre kendinge optræder med solokoncerter eller under et andet navn; DJ Benetti (William Bennett fra Whitehouse, Cut Hands), Jenny Graf, Crank Sturgeon, Evol og Samara Lubelski (Chelsea Light Moving, Jackie-O Motherfucker, MV/EE).
De danske navne er et kapitel for sig selv, men består fx. af originaler som Infuse Huddle med Alexander Fnug-Olsen i front, freejazz/postpunk/saxofongruppen Narcosatanicos, som Jens Franco er overjordisk fan af, Easy Rider med Jonas Okholm, Kristian Poulsen og Toke Tietze, Gustav Lindbergs Tradework samt den kun anden koncert med Emnet med Mikael Mørkholt, Mads Forsby og Martin Vognsen. Spændende.
I dag kunne Festival of Endless Gratitude så tilføje de sidste navne til årets program, så det samlede program ser således ud:
Faust (de)
Charlemagne Palestine (us)
Infuse Huddle (dk)
Richard Pinhas (fr)
Unit Moebius (nl)
Narcosatanicos (dk)
DJ Benetti (uk/it)
Evol (es)
Head of Wantastiquet (us)
Crank Sturgeon (us)
Samara Lubelski (us)
Orion Rigel Dommisse (us)
Easy Rider (dk)
Cam Deas (uk)
Jenny Graf (us)
John Levin (us)
JD Emmanuel (us)
Family Underground (dk)
Emnet (dk)
Tradework (dk)
Mackinawite (dk)
Info: Festival of Endless Gratitude finder sted i næste uge den 6.-8. november (RSVP). Læs mere om de enkelte kunstnere på festivalens Facebook-side eller på fucking internettet.
previous post: Mastermind Records –

et manifest i elleve vers opføres på lørdag