Hand of Dust –
danser på kanten af afgrunden
Tweet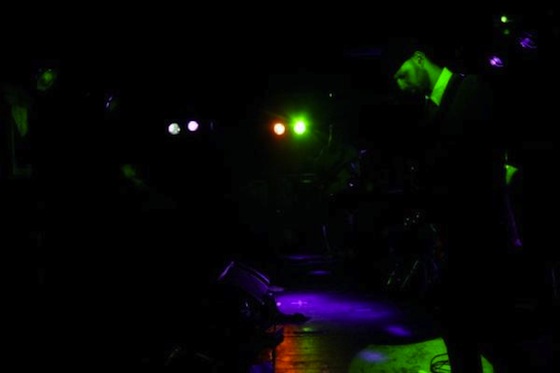 Hand of Dust udsender i dag sit første bånd. Et album med seks numre, der går down the drain, up in smoke, into the hole og som et andet "Blomstrende Slagsmål" er en gråmeleret omgang afgrundsrock, som skærer på samme måde som sollyset, i øjnene på et menneske, der har været i mørket for længe.
Det lidt atypiske ved Hand of Dust er, at numrene er skrevet som akustiske sange og ved lidt af et tilfælde oversat til elektriske guitarer og et punk-setup. På den måde er der nogle grundlæggende rockkoder gemt bag en form for smadret æstetik. En refence her kunne være Lower på nummeret "But There Has To Be More", eller nogle af sangskriverikonerne fra de sidste 50 år – fx. Birthday Party. Bandet består af Victor Palsby, Jesper "The Knife" Rasmussen og sanger Bo Høyer Hansen (også Sexdrome), og det er indspillet af Simon fra Girlseeker.
"Vores ven Simon Laksen Formann har indspillet og mixet båndet, det foregik i et vanvittigt forvirrende væld af ledninger og mixere i Mayhem, og jeg var ret imponeret, da jeg hørte resultatet. Musikalsk prøver vi tit og finde en balancen mellem at udføre noget smukt og melodiøst, på en forholdsvis smadret måde.
Med hensyn til guitar og lyd generelt betyder det, at det bliver dissonant, diskant, lidt distorted og meget rumklang. Vores relation til København er, at det er her, vi er vokset op, jeg hader det og ville sikkert have svært ved at bo andre steder, da der sikkert er lige så klamt. Vi er venner med nogen andre enormt gode bands (Dead Instrument, Iceage, Lower osv.) – jeg har i længere tid udvekslet tanker og ideer omkring sangskrivning med Adrian fra Lower, så dem føler jeg et stærkt musikalsk bånd til. Tempoet i musikken har aldrig været noget, der blev besluttet, og jeg tror tit, det lyder langsomt og tungt, fordi folk har det med at spille pisse hurtigt fortiden, – det skal de også være velkomne til."
Info: Cult of Youth (Sacred Bones), Lower, Iceage og Hand of Dust giver koncert på Loppen den 13. september (RSVP). I dag udkommer Hand of Dust debutbånd.
previous post: Synd og Skam blafret ør i haikuklæder –

udsender en form for debut