Kommando R.J.F. –
Monumentale frekvenser på første plade i 30 år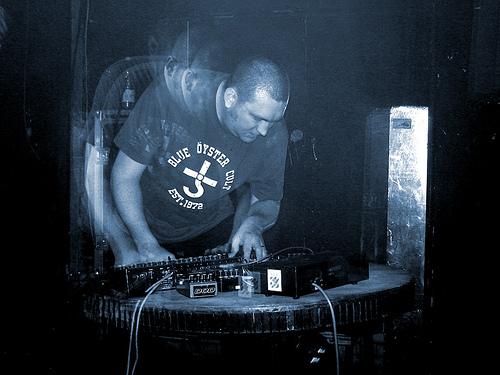 De svenske noise/industrial pionerer R.J.F. udsender sit andet album og opfølger på den nu 30 år gamle seneste plade, som dengang primært var Leif Thuressons projekt. I dag er det under navnet Kommando R.J.F., som netop har udgivet "Sweet Slow Suicide". Det er monumental, militant og slidstærk musik, men der er også en udstrækt hånd til europæiske noisekulturer og en fin tilgængelighed – trods den hårde vokal. Tommy Carlsson har blandt andet udgivet under navnet Treriksröset og og har siden midthalvfemserne været bannerfører for en generation af svensk harsh noise på selskaberne Abisko og Segerhuva. Resten er angivet i tekster fra Segerhuva og posh isolation herunder:
Segerhuva: "The most extreme and outstanding music from Sweden. Desire, despair, disgust, destruction & death – The Sound of RJF. This is the real thing, no false grace or hypocrisy. RJF get their inspiration from the sickness of mankind. This is not about music, this is survival and fighting back. A cock down the throat of morality. A knife in the back of society. RJF create their own values. Control & Knowledge." Text from the original 1983 press release. We might not have put it as poetic but when we found the old press release we couldn't resist the beauty of the text. The sounds on this disc drag you all the way back to the chilly gutters of early 80's fierce electronics. Menacing and mechanical noises, grating rhythms pick on your nerve endings, this is a sinister reminder that something was alive back then, something that is missing now.
posh isolation: "30 years ago R.J.F released their debut "Greater Success in Apprehensions & Convictions" as an LP limited to 300 copies, and by doing so released a piece of music unlike anything seen in Scandinavia before. Today we are proud to release the second piece in R.J.F's history, here in its second instalment renamed to Kommando R.J.F. Founder and mind behind the project, Leif Thuresson was joined by two of Swedish industrial most prominent figures; Tommy Carlsson (Treriksröset, Segerhuva, Abisko) and Kristian Olsson (Survival Unit, Alfarmania, Styggelse) for the recording of "Sweet Slow Suicide". An essential release for anybody with interest in the past and present movements of Swedish industrial achievements.
Info: "Sweet Slow Suicide" er ude nu og kan købes via posh isolations website. Pladeselskabet rundede i denne weekend udgivelse nummer 100.
previous post: Tera Melos –

mathrockere på popekskursion