Lotte Anker imiterer drømme på første udspil med sit superensemble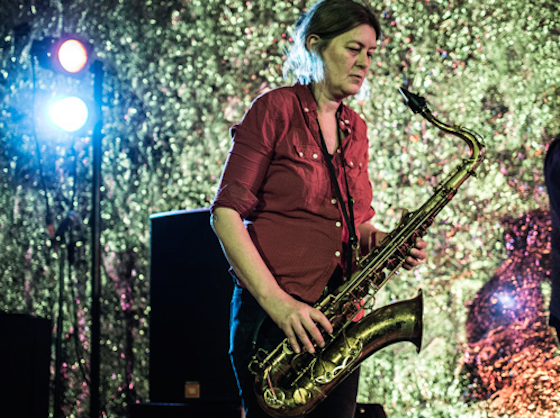 Af Frederik Denning. Foto: Peter Gannushkin.
Som en fast del af, hvad vi vel kan kalde ILK-slænget, og ophavskvinde til Copenhagen Art Ensemble og koncertrækken Thirsty Ear, er opmærksomheden omkring Lotte Anker alligevel rimelig sparsom i Danmark. Man kan dog altid finde en fremragende koncert eller to på 5E eller Literaturhaus under jazzfestivalen, hvor der er et avantgarde-miljø og en gruppe musikere, der gør deres ting og bliver ved med det.

På sin seneste plade, "What River Is This" på ILK er hun i særdeles fornemt selskab. Musikerne i hendes What River Ensemble tæller blandt andre markante profiler som Phil Minton, Ikue Mori og Fred Frith. Pladen blander komposition og improvisation, og er inspireret af grænselandet mellem drøm og virkelighed. Titlen stammer i øvrigt fra en linie i en Borges-tekst. "This music refuses to let reality decide – or does it shape its own reality?" skriver Thomas Millroth i cd'ens liner notes.
Til trods for denne påstand og for, at pladen ligger i den sværttilgængelige ende af trut-båt-spyt-avantgardejazzen, behøver man altså ikke have en doktorgrad i filosofi for at lytte til den. Til gengæld vil det hjælpe at føle sig godt tilpas, når der bliver gnedet på trommerne, spyttet i saxen og gurglet med vokalen. Interessant plade, der i højere grad fungerer på et musikalsk end på et konceptuelt plan.
Info: "What River Is This" udkom 20. oktober på ILK.
previous post: Actionjazzen indtager København