Mike Weis –
Buddhistisk tankegods for præpareret guitar og fuglefløjt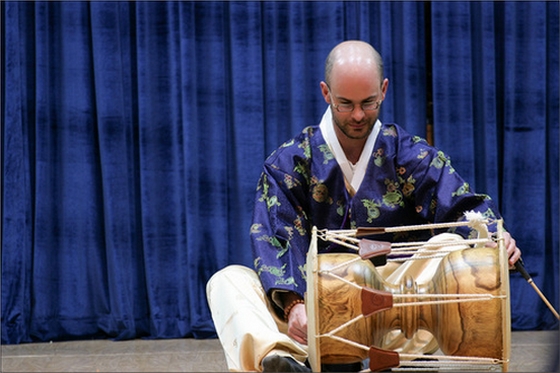 Af Mikkel Arre
Omridset af en munks messende bøn bliver langsomt tydeligere, sparsomt omkranset af metallisk ringen. Dirrende guitarstøj driver ind, og raslende bækkener baner vejen for en taktfast stortromme. Ringlende percussion finder samme takt, men fortoner sig hurtigt igen, så kun stortrommen og forskellige former for dundrende eller klirrende slagtøj er tilbage. Trommerytmen holder ved i en håndfuld minutter, men bliver aldrig intensiveret. Den er bare, mens klokker, gonger, bækkener og skærende guitarflader kontinuerligt omformer det landskab, som lytteren bevæger sig igennem i det tempo, som trommen angiver.
Sådan forløber den første halve snes minutter på Mike Weis' andet soloalbum, "Don't Know, Just Walk", og de er meget betegnende for pladen.Den amerikanske trommeslager Weis har studeret hos samme ypperstepræst, der lærte Steve Reich om polyrytmer, og gennem mere end 10 år har han været en del af den skiftevis Talk Talk-influerede, psykedeliske og ambiente trio Zelienople. Her er hans trommespil yderst detaljeret, men samtidig så tilpas underspillet, at det ikke overmander de drømmeriske lydflader. Zelienople-pladerne giver ofte fornemmelsen af, at Weis kan meget mere, end han giver sig selv lov til at vise. Men måske holder han bare mest af at holde igen. I hvert fald er de rytmiske elementer heller ikke specielt dominerende i hans soloprojekt. I stedet er de blot én bestanddel mellem de øvrige: field recordings (som den indledende optagelse, der stammer fra et tempel i Seoul), præpareret guitar og et væld af slagtøjsinstrumenter (fra især Korea), der snarere skaber omsluttende lydvægge, end de angiver takt og tempo.
Enkelte steder dukker der insisterende trommepassager op, men de holder sjældent ved ret længe. For selv om traditionel asiatisk musiks ofte hektiske rytmer har en stor plads i Weis' hjerte, er de ikke det centrale på "Don't Know, Just Walk". De tre numre, der alle er indspillet som one-takes, lader derimod buddhistisk tankegods, rungende slagtøj og reallydsoptagelser fra fuglerige områder glide sammen i ét. En sammenstilling, der afspejles i det næsten-haikudigt, som sangtitlerne danner: "The Temple Bell Stops / But the Sound Keeps Coming / Out of the Flowers".
Mike Weis indsamlede field recordings på lange vandreture, efter at han blev erklæret alvorligt syg, og indspillede albummet, mens han stadig var i behandling. På den måde blev arbejdet med pladen en del af helbredelsesprocessen, forklarer han på sin blog.
"The album title, Don't Know, Just Walk, references a method of meditation used in the Korean Zen tradition of Buddhism for clearing the mind – removing all obstructions to get a clear view of the world. Through experience, I've come to interpret this as proceeding without mental baggage, without dogma; basically, getting my self out the way of myself so I can experience the rest of the world with wide openness. […] In short, I found solace not in the concepts but simply in the process. In terms of music, this was practicing, experimenting, recording, listening, having fun. For the diagnosis – researching, understanding, listening, accepting. I realized that there was nothing to grasp on to, that everything was a transient process so I chose to ride the process to see where it would lead. That was the therapy – the just doing. I used to think that sound was my escape from reality, now I think it's an escape into reality, a useful device to reconnect with the world. My hope is that you will listen more closely to the sounds around you and to the silence in the sounds as if for the first time or possibly the last time in your life. Life is a brief process but one worth staying awake for."
Info: "Don't Know, Just Walk" er udkommet på Type Records. På selskabets hjemmeside kan man i øvrigt finde et aldeles formidabelt Mike Weis-mixtape med rituel musik fra noget nær hele verden.
previous post: Illdjinn –

Åndemaner i en trancetid (premiere)