Milford Graves –
Dokumentaren Full Mantis får dansk premiere i marts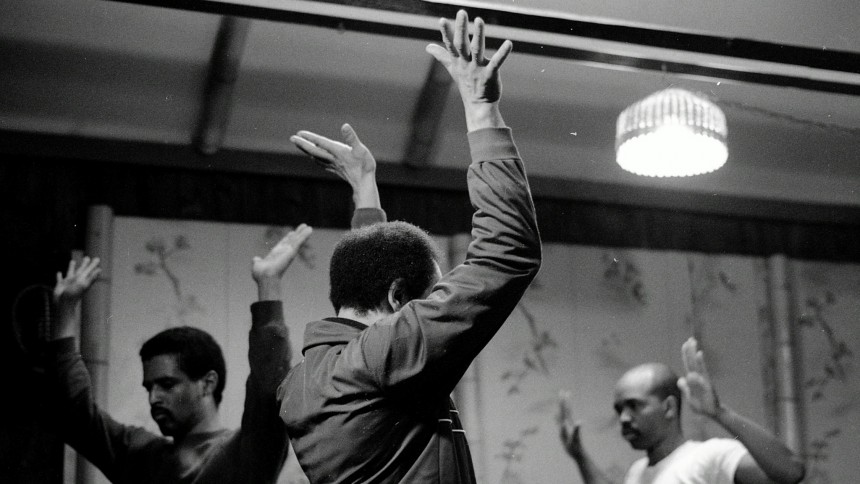 Af Simon Christensen
En ny dokumentarfilm om freejazz-trommeslageren Milford Graves får nordeuropæisk premiere på dette års CPH:DOX. Filmen "Full Mantis" er instrueret af Jake Meginsky og Neil Cloaca Young – og portrætterer Milford Graves som trommeslager for bl.a. Albert Ayler, Pharaoh Sanders, Paul Bley og New York City Art Quartet med vores egen jazzhelt John Tchicai.
Som musiker og komponist er Graves et forbillede for en langt større del af nutidens alternative og fritænkende trommeslagere (Greg Fox, Chris Corsano, Greg Saunier, bare for at nævne nogle ikke-jazzere), end man først skulle tro – og han har desuden udfoldet sig som filmkomponist, underviser, herbalist, kampsportsguru og har sit helt egen filosofiske livssyn, som han deler ud af til sine studerende.
Én af de yngre danske musikere, der kan kalde Milford Graves for mentor, er Oliver Laumann.
"Jeg mødte ham gennem Susie Ibarra. Hun er komponist og trommeslager, som både har været Milfords elev og Denis Charles' protegé. Hun overtog i 2012 Milfords stilling på Bennington College, hvor han har undervist siden halvfjerdserne. Susie sagde, at jeg altså var nødt til at møde ham, men at han skulle overtales, fordi han egentlig var færdig med at undervise. Hun overtalte ham til at lade mig komme forbi, så jeg tilbragte en lang dag i hans kælder, hvor vi snakkede og spillede og blev enige om, at jeg skulle komme igen. Jeg tog tilbage til Danmark, for så at vende tilbage til New York et halvt år efter, for at studere hos ham. Det blev til et halvt års karate-kid agtig træning hos ham i hans helt vildt dekorerede hus, hvor han har boet siden han var 18. Her har han en sprudlende have, et slags tempel ude bagved hvor hans trommer står, og så kælderen fyldt med andre instrumenter, urter, hans computer-/forsknings-setup, bibliotek osv.
Milford Graves er, som mange beskriver ham, jo lidt af en poly-math, men måske først og fremmest – og med hans egne ord – er han healer. Milford har opfundet Yara, som er hans egen form for martial-arts. Han ved alt muligt om urter og plantemedicin; han er genforsker, akupunktør, maler, selvfølgelig trommeslager og meget andet. Men der er ingen tvivl om at det hele hænger sammen for ham. Han ser altså trommerne som instrument for healing og hans publikum som en slags klienter, som han kan behandle med trommernes lyde. Og det må man faktisk sige, at han gør. Jeg vil også sige, at hans tillid til forbindelsen mellem alle de forskellige retninger, som han arbejder indenfor, har inspireret mig. I stedet for at tænke at alle de ting man foretager sig skulle være klinisk adskilte, tror jeg snarere, at der eksisterer et feedback mellem dem, eller man kan nok ihvertfald dyrke et. Sådan så fx ens politiske overbevisning feeder ind i ens trommespil.
Jeg havde lyttet til alt, hvad der var at opstøve med ham, inden jeg mødte ham og set alle videoer på youtube, men jeg fik stadig et chok, første gang jeg var til en af hans koncerter. Han spiller virkelig ind i én! Jeg var rystet – det var virkelig noget radikalt anderledes, han gjorde, end hvad jeg troede inden. Jeg synes selvfølgelig, det er vigtigt med sådan en dokumentar som den, der kommer nu, for han er jo en spændende fortæller, og der er flere der har prøvet at lave sådan en film. Og jeg glæder mig til at se den, men jeg vil sige at hvis man har muligheden for at høre ham eller for den sags skylde sætte en koncert op med ham, så gør det! Jeg tror, han skal opleves, hvis man virkelig skal forstå," forklarer Oliver Laumann. Af andre danske studerende hos Milford Graves kan nævnes Anders Vestergaard og Michala Østergaard.
"Throw the metronome in the trash can, listen to your heart."
Instruktøren bag "Full Mantis" er den amerikanske musiker Jake Meginsky, som nogen måske vil huske fra Click Festival for to år siden, hvor han spillede en koncert med sin egen musik. Han har fulgt trommelegenden i 15 år – først som studerende, siden som en form for assistent og som dokumentarist. Vi spurgte instruktøren, hvad hans personlige motivation – og Milford Graves' egen motivation – var for at udgive "Full Mantis":
"The project grew out of my 15 years as Milford's student. I started recording with the idea of contributing to the larger archive of media regarding his career. I knew I was in the presence of someone who changed drumming forever, and I wanted to do my part and help preserve some of the living history. This archival impulse evolved into something more cinematic and personal over time. As I began to learn some of the things Milford wanted to share most about his creative process and philosophy. I also started to examine the things that were most important to me, regarding my own growth as a musician.
After a couple years of study, the rapport between us grew. He began to share unseen material from his vast personal archive with me. One hot summer afternoon in his basement in Queens, we threaded Super 8 footage taken on a 1981 Japanese tour with the great butoh dancer Min Tanaka. As we watched the screen flicker, a younger Milford appeared in front of a Japanese forest, demonstrated the Yara movements with focus and intensity, and then proceeded to disappear, absorbed by the quivering bamboo. In another reel from the same tour, Milford and Min Tanaka perform for a school for children with autism. The concert begins with the students sitting still. Over the course of 20 minutes, as Graves plays the kit and Tanaka dances, the students begin to get up and dance, one by one, until the entire school erupts in a display of energy and joy. In the final frames, a single child remains, dancing beautifully in front of the drums as Milford plays the ride cymbal in 12/8. The child's eyes are locked in with Milford's, and I could feel the energy transmission between the two. At that moment, I caught my first real glimpse of the cinema that would eventually become Milford Graves Full Mantis."
How come did you find it fitting to screen the documentary at the CPH:DOX in Copenhagen?
"I played a solo set at the CLICK festival two years ago and had a great time in Copenhagen and Elsinore. The programming at CPH:DOX has struck me as very forward thinking and I was psyched when they invited us to screen the film for a Danish premiere. The catalog this year looks exceptional and I'm interested to see how our film vibrates within the larger curatorial scope. You can learn a lot by the way films talk to one another. My friend Jenny Graf Sheppard runs the Sounding Bodies Research Lab at The Royal Danish Academy of Fine Arts and we are planning on doing something with her and her students while we are at the festival through the film festival's academy."
In a broader musical perspective what do you think drummers today can learn from (this documentary on) Milford Graves?
"Throw the metronome in the trash can, listen to your heart."
I en anmeldelse af filmen skriver den mange-årige musikkritiker Byron Coley for bl.a. The Wire: "Milford Graves Full Mantis is one of the best jazz documentaries ever assembled. Part of this is due to the decision to skip the parade of talking heads who usually populate such films, but even more stems from the amazing depth of the subject, Milford Graves himself. A shaman and master martial artist, in addition to being one of the planet's most brilliant percussionists, Milford harbors more layers of arcane knowledge than most sentient beings, and this film gets inside many of them. The live clips are unbelievably great, but some of the interview segments are even more mind-blowing. All of which makes for a singular viewing experience."
Info: Milford Graves Full Mantis vises i Cinemateket 17. marts og Vester Vov Vov den 21. marts, til sidstnævnte vil Oliver L. B. Laumann lave en introduktion til Milford Graves' musik og livsverden.
previous post: Fast Forward –

The past is recent and the future is wide open (interview)