N.E.GIRL –
Music can extend our identities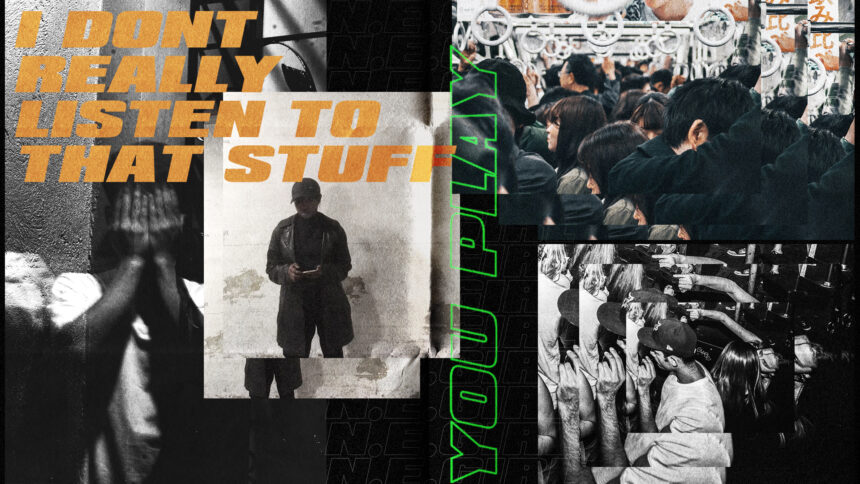 The following is an excerpt from our newly released Festskrift IV. A collection of reflections around the phenomenon of RHYTHM – written, illustrated and recorded by musicians, graphic designers, DJ's and multidisciplinary artists.
N.E.Girl is a UK bass DJ blending styles from different underground scenes. She is also one third of the Copenhagen based label Solumn Records and a resident at Co-Select – a London-based collective advocating equality and a balanced representation in DJ culture.
Her contribution to Festskrift IV consists of the collage above and the interview below.

––––––––––––––––––––––––––––––––––––––––––––––––––––––––––––––––––––––––––––––––––––––––––––––––––––––––––––
I created a collage which initially was supposed to resemble a club night poster but evolved into an expression of insecurity, as opposed to a self-aggrandising piece. It's supposed to portray isolation and community which can both be felt in a crowd of people — depending on the context. Also, the conflicting feeling of playing (DJing) a style of music admired in one place (country) and sometimes undermined in another. I think I'll call it Self-Centered.
What do certain beats and tempos ignite in you?
Deep bass music can be meditating — it's a physical sensation, as the deep subs penetrate your body.
Why do you think you have been drawn to them?
My love for deep, sub-heavy bass music comes from my environment, growing up. This type of music was common to hear. It reinforced a sense of community and culture – it is a subculture which has become mainstream.
And what do they mean for you?
Without consciously acknowledging it, the community element works as a sort of "safe space" for full expression.
How do you understand the relation between rhythm and identity?
Music can operate as an extension of our identity. I think it can be used to express feelings that we would not/could not, or even validate or reinforce certain experiences common to a particular group.
Info: Festskrift IV – RHYTHM can be ordered through passiveaggressive.dk/prints. Subscribe at patreon.com/pasaggressive for good deals and news about our physical magazines.
previous post: August Rosenbaum & CTM –

At bevæge sig inden i et værk (interview)