Pythia's Journals –
A monomedia festival for our isolation pods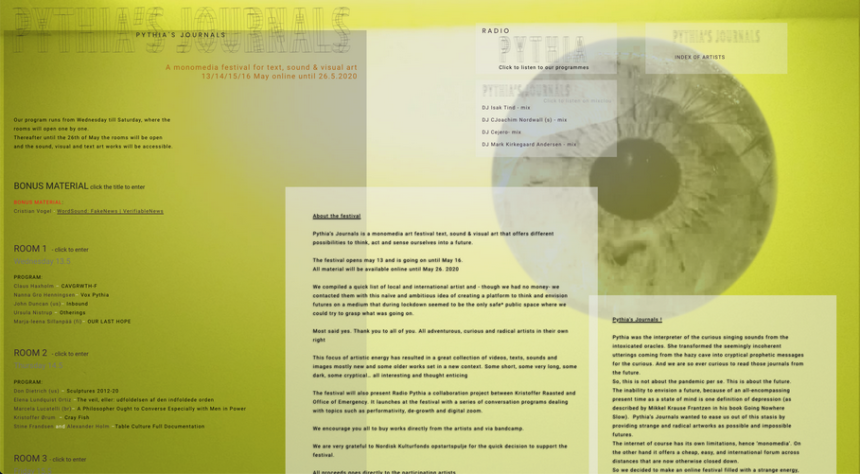 Review by Macon Holt

Pythia's Journals is an online art festival conceived, organized and curated by artists Tobias R. Kirstein and Signe Vad, through Vad's organizations, Office of Emergency and The Syndicate of Creatures. The festival takes its name from the mythical Greek priestess who both channelled and interpreted the utterances of the god Apollo and transduced them into cryptic prophecies stored in a journal. As Kirstein and Vad put it, the motivation of this festival is to try and peak inside "those journals from the future", and in many ways, the event is incredibly well placed to do just that.

The peculiar confluence in this moment of our personal productive/consumptive technologies (laptops etc.) and an ancient-yet-novel bio-threat (COVID19) has made this moment ripe for introspective and investigative speculation. Indeed, Vad and Kirstein's declaration that this is a "monomedia" festival is a wry nod to hypocrisies and paradoxes of this stage of cognitive capitalism, which, in one moment, declares the multi-media, multi-platform and unending potential of all its projects, and in the next, flattens anything that might populate these projects with ideas or sensations into mere "content". "Content" that can often only be paid for with "exposure". Against this Pythia's Journals offers a cornucopia of interpretable utterances from musicians, artists, writers, filmmakers and philosophers. This outpouring of mostly new work in a way becomes the unruly excesses that cannot be fully contained by the category of "content" and yet, by virtue of the media, these expressions are made to function as such.

So here we are, those whose skills or inclinations are superfluous to the needs of the immediate crisis at hand, before our laptops in this virtual and undecidable square/journal/blog/stylized-Pinterest-board of Pythia's Journals. Down the left-hand side, there are four rooms that have been released over a series of four days, each populated with one work from five or six different artists. Within each room, one scrolls horizontally to navigate the pieces. This makes it feel more like moving through space compressed into a panorama than just engaging in the endless scroll of our day-to-day internet usage. While each room has clearly been carefully curated to provide a balance of longer, more involved pieces and shorter or atemporal interventions—as well as those audiovisual and textual elements that compose the monomedia—any notion of a theme for each is left as an impressionistic or emergent quality for the festival goer to ponder rather than explicitly stated.

In room one, we find a new audiovisual piece by Claus Haxholm (full disclosure: Haxholm is a recurring contributor to P/A) along side a text as PDF by Finnish artist, Marja-leena Sillanpää, which explores the kind of palimpsest of representation in text. There is a radical, almost agitprop film by Nanna Gro Henningsen, composed of ideas from critical and political theory juxtaposed with the monomedia resources of the first-person view of a flickering laptop and free to license audio loops of bowed guitars.
As I watch the videos in this room, I'm struck by the fact that I can't switch it into full-screen mode. You have to click into a new page to watch the clips and the video player, so familiar to the art world of online content sharing, pops up. You can then play the video in the context of that page. You can slip into those trained internet behaviours that hide the reach of the monomedia. Instead, you must watch it in the context of this online festival. Like a kind of Brechtian alienation, you are always aware of the artifice of the form and, as a consequence, aware of the works in that context.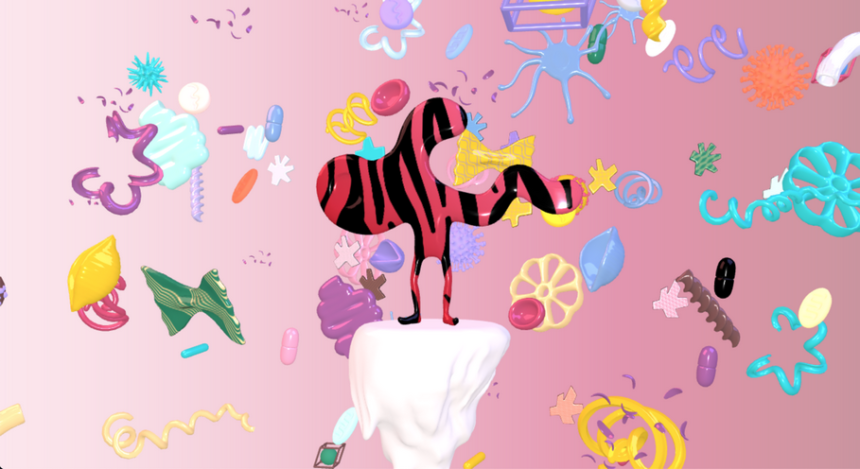 In room two, there are a series of sculptures with an accompanying soundtrack of processed noise by the renowned American improviser Don Dietrich. There is also a compellingly playful digital art piece/composition by Marcela Lucatelli, "A Philosopher Ought to Converse Especially with Men in Power", in which colourful digital pasta rains down around a charming but odd dancing shape as guttural voices give it a beat. You can move the camera by clicking and dragging but the dancing form remains at the centre. There is also an offbeat informational cartoon on the arrival of the signal crayfish in Denmark by Kristoffer Ørum, which offers a wonderfully brief satire of the online saturation of infotainment. As I explore this room, I start to notice the dust and damage on my screen, highlighted by the sun coming from outside; from a world that has become dangerous to me since the lockdown began. But while it's not safe to go outside, the monomedia it seems can provide my cultural fix, beyond that of the commercial "content" delivery platforms. So long as my device holds out, I can work and I can play and I can become ever more erudite.

Room three features two of the most interesting musical pieces in the entire festival. The first is Francesca Burattelli's "Elon's Dream/The Way of the Future", which starts with a sampled loop of Leonardo DiCaprio's obsessive-compulsive line from the "The Aviator" set against the manipulated woodwind drones. At moments, these drones would ironically not be out of place as the simulated engine noises of one the pseudo-messianic-union-busting-billionaire's eclectic cars. The other piece is Marie Eline Hansen's "How", a piece of layered vocal and keys loops that perfectly capture the quotidian and incessant nature of our anxiety about the future as well as its triviality, given that it abruptly ends seemingly as the reality of the future arrives.

I start to notice my computer's fan is whirring as it loads these rich pieces of media "content". There is something of the internet of the past about Pythia's Journals. It hasn't been optimized to streamline the "user experience" like so much of the internet. Instead it has been made to represent the artists' work as faithfully as possible even if that causes your machine to heat up. While it utilizes other platforms for easy media playback (Vimeo and Bandcamp etc.) and modern bandwidths to allow for this playback to be hi-resolution, the site is utterly unconcerned with scalability. It has not been built to become the next trend in tech and re-present user-generated content for a profit. It is more like it is making productive misuse of the monomedia. The website is staking out a little territory in our networked lives that is willfully different from the rest of it by eschewing efficiency.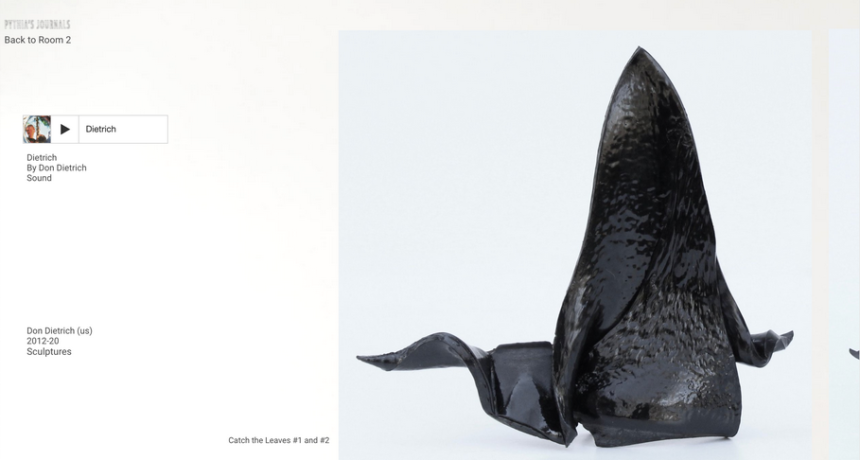 In room four, amongst the artworks are a video piece from anonymous Danish collective, Mycelium, "And the Birds are Getting Louder", a durational piece by the composer and videographer, Danielle Dahl, "Proportions of Time" and a filmed collection of outtakes from a performance collaboration between, British artist, Geraldine Hudson and Swedish artist, Åsa Johansson as the collective Systerisk, "Rites of Spring". The Mycelium piece sees the collective lean into their anonymity by using a distorted voice set amongst a digital soundscape to narrate the processes of factory farming, political shortsightedness and economic and technological theology that plague the current moment, interspersed with philosophical reflections. The refrain, "and the birds are getting louder" serves as a section break. This is set against black and white footage of two women (witches?) in a forest who, in one moment, seem to be in the midst of some kind of ritual while in the next seem to become part of an ambivalent, natural world. Ritual is also central to the Systerisk's piece, in which a woman veiled in black gesticulates with what appears to be a scalpel in front of an unknown occultist symbol with a soundtrack of throbbing heartbeat-like bass pulses mixed with field recording. But the clips keep cutting out. These are the outtake of a ritual in progress. The production of something that, when it is finished, will appear as if it has always existed even though it is brand new.

Again I am made aware of the monomedia as I attempt to listen to Dahl's "Proportion of Time". After clicking play in the corner of the page nothing happens. I wonder if I have missed the stream, but at 109 hours in length that shouldn't be so. It says the next stream should start the next day and I try again and still nothing. It seems that maybe my browser simply cannot load the media. And so I am left with only the accompanying video and text from which to infer the content of the work. In a regular festival setting, this kind of technical failure would be a profound disappointment but here on the monomedia, it just seems to be one of the perils of our communication technology.

Alongside these rooms is Pythia's radio, a small archive of interviews between Kristoffer Raasted and some of the participating artists such as Alexander Holm and Karin Hald. There are also mixes that have been made for the festival by Isak Tind, Cejero, Mark Kirkegaard Andersen, and Joachim Nordwall. This again plays into the mediated nature of this festival. Sometimes festivals, such as Click, will attempt to augment the meat-space experience with a hastily cobbled together app that can often take you out of the experience as it sends you into the monomedia world of extra content. Whereas when you come across such material in Pythia's Journals, it is part of a flow that has been established by the festival-going experience so far, and so feels consistent.

When I reflect on the days I spent dipping in and out of Pythia's Journals, I am heartened by the attempt to intervene in the totalizing banality of the cognitive/computational/communicative capitalism that has saturated our lives even more since the COVID19 lockdown began. Furthermore, I am amazed at how affecting these works are made by being situated in this little internet silo, which while it may be comprised of elements from larger platforms marks itself off as distinction from them. If I had stumbled across these pieces on Vimeo or Bandcamp, it would have required much more effort from me to invest myself in them. But through the curation and media-specific subversions of design, Pythia's Journals provides a space in which both sensation and contemplation can be prized above the din of our day-to-day digital lives. The quick turnaround too allows for a relativisation of these artworks and those we used to find out in the world. By focusing on works that have been put together quickly or constructed from earlier archived material, it lets us into the process of artistic production that is so often occluded by the polished conventions of the art gallery or the art festival.

That being said, it misses something of the sociality and with it the intensity of in person festivals. Part of the profundity of so much of contemporary art is found in seeing others being affected by something while you are being affected yourself and then becoming more aware of your actual position in the world. There is a danger that the format of this festival allows you to fall into one of the most problematic illusions of our time; that all this "content" has been provided for you alone. The consumer is king.
But Pythia's Journals is very much aware of this and rather than taking ill-conceived steps to deny it, the festival draws our attention to it and encourages its attendees to do the same. And now we have heard the murmurs and ramblings of this digital oracle, the interpretive work can begin as we cautiously emerge from our isolation.
Info: Pythia's Journals continues until May 26th.
previous post: Banh Mi Verlag –

Lavpraktisk poesi og digitalt frisind