The Manipulated –
tung dansk vintersludge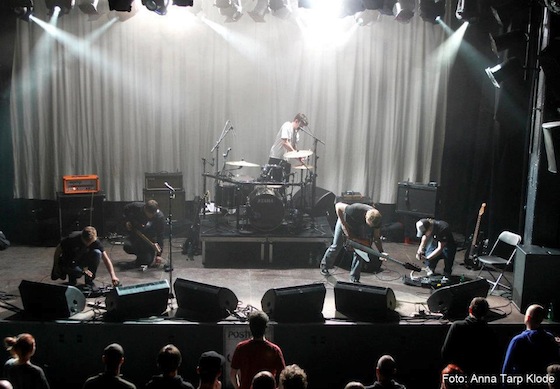 Af Alexander Julin
Den aarhusianske kvartet The Manipulated (førhen MEEK, The Manipulated Living) spiller instrumental metal med et perspektiv på eksperimenter af lyd. For at smide lidt flere farver på genre-paletten, kan det nævnes at bandet trækker på elementer fra ligeledes doom, sludge, såvel som den mere traditionelle rockmusik.
Efter diverse genreovervejelser udgav bandet "The Manipulated" 10-tommer på eget selskab (sort vinyl, 33 rpm på A-siden, 45 rpm på B-siden) i sommeren 2012, der dog mest af alt lyder som et sæson-forskudt soundtrack til den uimødekommende vinter. Gennem ep'ens knap tyve minutter lange længde, bliver man som lytter præsenteret for et isoleret kaos, hvoraf det mest af alt afhænger af ens egen interesse eller nysgerrighed, hvorvidt man vil lade sig opsluge.
Lydbilledet lader sig slæbe langtrukkent op mod et konsekvent klimaks, hovedsageligt udført af et fandenivoldsk guitarstrejf. Der veksles regelmæssigt mellem en sfærisk klang af et utal af guitarstrenge og et mere direkte såvel som fremadrettet udtryk, der kun virker til at have ét sigte; imellem øjnene (eller ørene) på lytteren. Den løbske guitar bliver pisket igennem en varierende rytmik af trommerne, der i sig selv giver en genlyd af slaviske piskesmæld. Med andre ord er det rimelig ondt, men formår ved de forskellige genretræk at undgå stemplingen som noget nær kitch.
Udover overstående skal det nævnes, at ep'en er indspillet af Manipulated i sommeren 2010 og produceret af Klaus Q, der ligeledes har stået for mixning af Double Space, Fossils og Entombed.
Info: The Manipulated giver koncert på Trøjborg Beboerhus, den 30. november med Town Portal og Fossils. (RSVP).
previous post: THE END –

Reportage fra Unsound Festival 2012, Kraków