Tom Carter –
Fireside Music and a personal appreciation of a Long Time Underground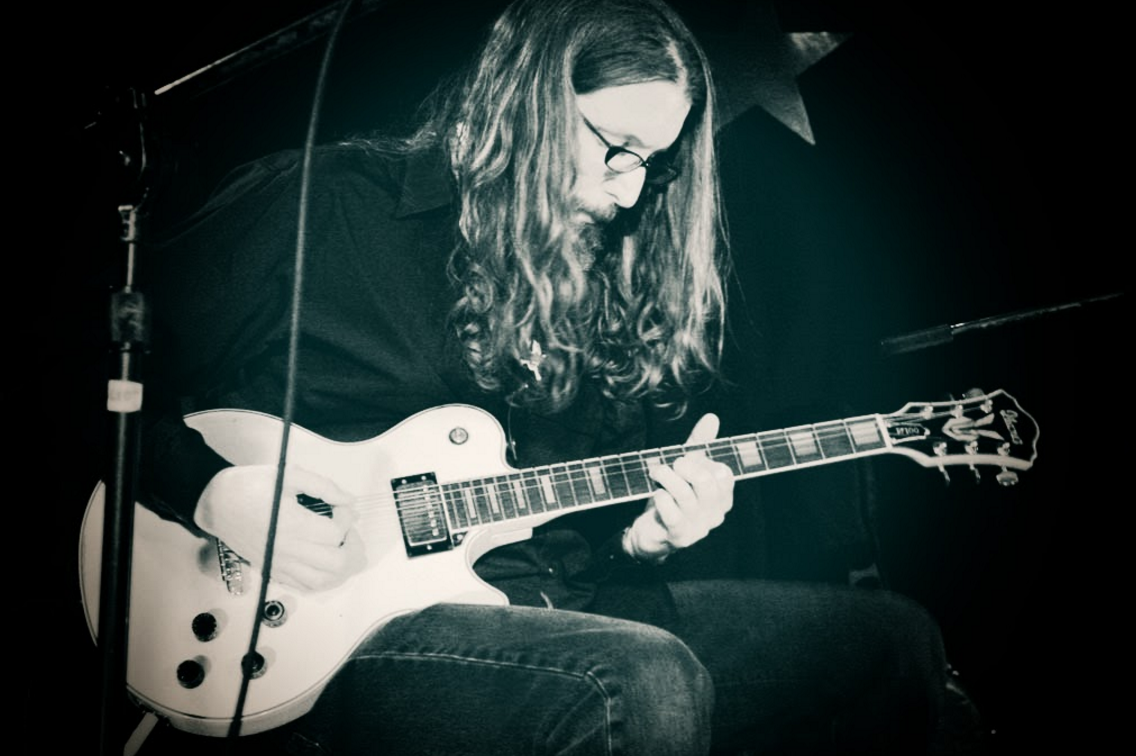 By Javier Orozco
The aptly titled arrangement Fireside Music takes place within the context of Kulturnatten, the Culture Night in Copenhagen. It is organized by Astrid Noacks Atelier's curator and performance artist in her own right Jenny Gräf (who we interviewed earlier this year). The event will offer the opportunity to experience Tom Carter, Ka Baird who has been associated with the act Spires that in the Sunset Rise (who was portraited last year) and the Copenhagen-based american artist Jenny Gräf. The visual atmosphere will be crafted by the multimedia artist Ivy Meadows and her set of live projections.
Jenny Gräf, who is part of the Astrid Noacks Atelier, says in an email, she hopes that Kulturnatten will provide "an opportunity for artists and curators to break out from their respective art-music ghettos". Due to the renovations happening at the atelier the event needed to be moved to another venue, and Mayhem is a most adequate environment. Jenny is also the meeting point for the artists performing this evening, Tom Carter has collaborated with artists that Jenny has worked with before, and Kathleen Baird and her shared a geographical and artistic sphere before Jenny moved to Denmark.
Serendipity had it that both Carter and Baird were touring Europe at the same time.
Transitions as a solid state
Last year Tom Carter released "Long Time Underground", an album that plays as a congregation of dynamic shapes, all anchored and propelled by Carter's electric guitar. Following is a brief verbal account of my experience with this work.
As a listener one is invited to step into a maze of sounds and, as precarious as it may be to relate an album's cover to its aural content, in this case the cover is an indication of the landscape one is about to behold. Two patterns of infinite circles, the vertical one is juxtaposed against a softer toned horizontal one, these two are anchored against the image of a semi-dry american scenery. Clouds. Sky. Blackness. The riddle consists in finding both, the entrance and the exit, hence the essential drift happens in the threshold. The division between inside and outside is obliterated: these songs exist in the joints of these realms.
This an album that feels as an exploration of the eternal outer space, of nature, and of all the things dead and alive that populate it, as a polar consequence one is invited to move inwards, to one's own personal labyrinth. As the mammoth of American psychedelic music that Carter is, and as most psychedelic experiences, the sounds here urge the listener to feel herself less as an individual than as a frontier, as a bind, where skies meet organs, dreams, saliva, bushes and concentric loops. Three years ago the guitarist suffered from a violent pneumonia, so harsh that he ended up in coma; the album expresses the transitions between profound darkness and awakening (I write as someone who has no personal experience of such a state), and it explores the affects that vaporize upwards. The sonic constructions of "Long Time Underground" are immersive, contemplative and often narrative.
"Long Time Underground" was recorded as a series of single takes with no overdubs. Sonically the album comprehends the tensions previously described: Carter's guitar is used as cauldron and vessel. It provides the map for lands that seem remote when six strings are the only vehicle. It is an exploratory trip of the malleability of the sonic palette of the instrument, often visiting the coordinate where the guitar starts to sound like something else, or the resonant cavern where one guitar sounds like a battalion of them.
Tom Carter resumé is broad, he is a founding member of the improvisation acid folk duo Charalambides, runs the label Wholly Other, he has collaborated with a wide roster of musicians like Pete Swanson (from Yellow Swans) on their joint venture Sarin Smoke, and Pat Murano from No Neck Blues Band, amongst many others. Additionally he records under his own name. His concert at Mayhem may explore some of the territories he has trotted before, yet one should not expect a rendition of his recorded output since Carter is known for improvisation and drifting sonic sculptures. The Fireside Music event provides a door into his live aural constructions.
Info: Tom Carter's "Long Time Underground" is out on Three Lobed Recordings. Fireside Music is organized by Copenhagen-based Jenny Gräf and takes place at Mayhem, Friday 14th of October from 18.00 to 20.00 (RSVP) – and stay for Smegma at the same place later. Tom Carter + Family Underground also plays Christianshavn Beboerhus on Saturday 15th.

previous post: Videodrones –

Synth-impro hjemsøgt af zombier og kannibaler