We Like We –
Åbning af et forunderligt klangunivers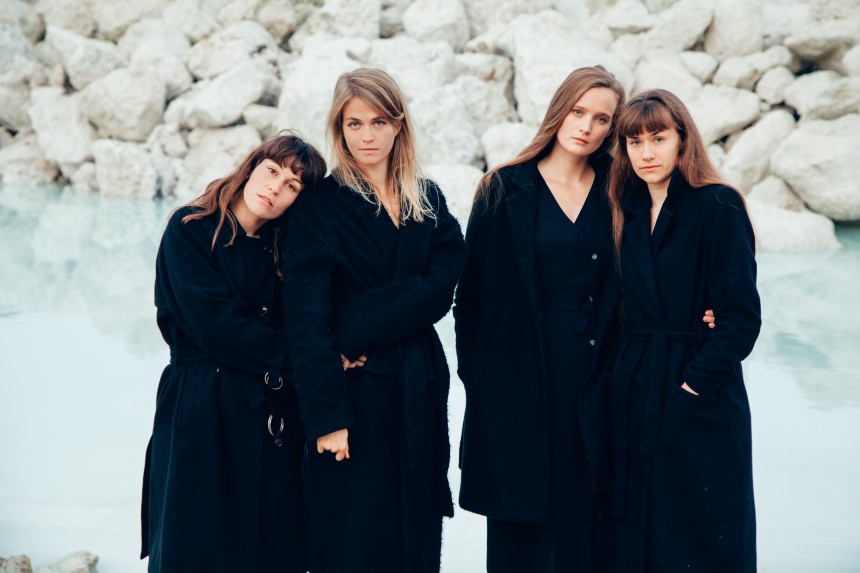 Af Ida Selvejer Faaborg
Den avantgardistiske klangkvartet We Like We er første navn i en ny månedlig koncertrække på Litteraturhuset i Indre By. Koncerterne sætter fokus på unge og professionelle musikere på tværs af genrer, og med sin brug af improvisatoriske og grænsebrydende elementer virker We Like We som det perfekte act til at skyde koncertserien i gang.
De fire medlemmer, Katrine Grarup Elbo (violin), Josefine Opsahl (cello), Katinka Fogh Vindelev (vokal) og Sara Nigard Rosendal (percussion), er alle klassisk uddannet, men deler samme ønske om at skubbe til den skolede klangæstetik med en blanding af klassiske traditioner og elektroniske effekter.
På deres seneste udgivelse "Next to the Entire All" bliver vokal, cello, perkussion og violin vævet sammen med en konstant variation i intensiteten. Det er netop her, We Like Wes helt egen, legende lyd opstår. Og netop disse levende kompositioner, der er blevet skabt ud fra improvisationer, bliver interessante at høre udfoldet live.
Har man hørt den føromtalte udgivelse, er man bevidst om, at We Like We arbejder i mødestedet mellem det moderne klassiske og det ambiente univers. Det ambiente er særligt til stede på det beundringsværdige "Frost" og det mere eksperimenterende nummer "Dark Waters", hvor selve udførelsen bliver interessant at opleve, da lytningen af sangen automatisk giver en forestilling om, hvordan instrumenterne bliver brugt, og lydene bliver til. Her kan man også håbe, at orkesteret slipper sig endnu mere fri fra de klassiske tøjler, blænder mere op for de elektroniske elementer og lader sangene strække sig længere ud i undersøgende afkroge. Derudover er man nærmest garanteret at blive blæst bagover af det smukt opbyggede nummer "Forest Sketches" med dets altomsluttende og dramatiske afslutning.
Én ting er i hvert fald sikker: De fire talentfulde kvinder og deres stemningsfulde klangunivers er både overraskende, varierende og det perfekte selskab til en søndag eftermiddag.
Info: We Like We spiller i Litteraturhuset på søndag den 11. marts (RSVP). Du kan også opleve We Like We følgende steder i foråret: 15. marts: Festsalen, Charlottenborg / 08. april: Huset i Hasserisgade, Aalborg sammen med Otto A. Totland / 09. april: Tape, Aarhus sammen med Otto A. Totland / 13. april: Christianshavns Beboerhus sammen med Otto A. Totland. Se mere info om koncerterne her.
previous post: NESM –

Samtidens egentlige indieselskaber er finansieret af frivillighed (interview)