Yung og Bad Stroke –
Nyreslag fra Aarhus' nyeste utilpassede unge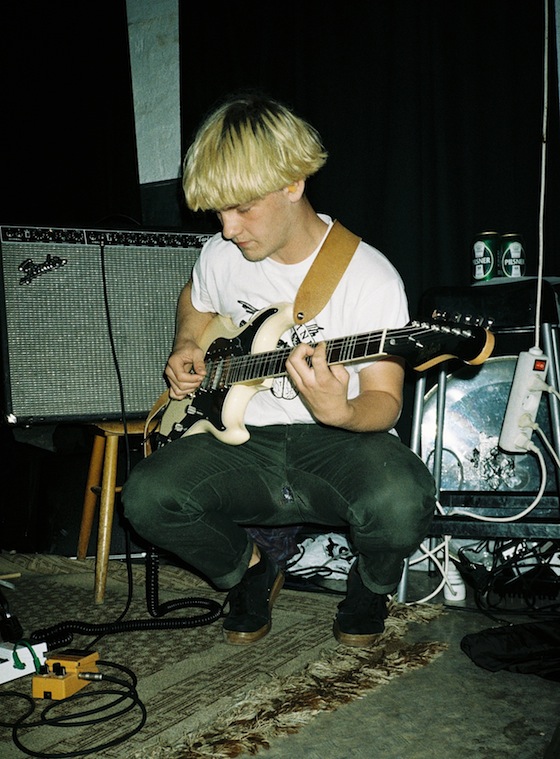 Af Simon Christensen (Yung) og Jens Franco (Bad Stroke). Foto: Alexander Julin.
Da den kortlivede aarhusianske hardcore punk-gruppe Urban Achievers gik i graven tidligere på året, var de medvirkende allerede begyndt at forme nye bands som fx Happy Hookers for Jesus, Fright Eye, Bed Bugs og ikke mindst de to små labels Vulgar Deformity og Shordwood Records. Begge udgiver musik i små formater og små oplag.
I denne måned er Shordwood for alvor kommet i gang med to nye udgivelser. Mikkel Holms eget projekt Yung består af medlemmer fra Urban Achievers og Snaredrum. For en udgivelse af den type giver de 16 numre en virkelig lang kassette, men det består af vildt gode ting, som basalt set blander rock fra lo-fi'ens hyldehøjde: punk, garagerock og melodisk slackerrock. Der er i hvert fald en stribe gode numre omkring "Nothing To Say" og "Look", som gør Yung til et stilstikkert bud på en dansk Ty Segall eller John Dwyers.
Til sammenligning er det nye bånd med Bad Stroke overstået på bare seks minutter i fremragende tempo. Musikken er hurtig, aggressiv og vred amerikanskinspireret hardcore punk, der sprutter af hooks og attitude. Tilsat giftige doser af desperation, slagsmål og billige skateboards. Elsker det! Trods den ultraprimitive lo fi-produktion. Jeg mener at kunne høre et walkman-agtigt båndsus i 'No Time For You'. Fuck det, digitale medier er for tøsedrenge. Båndet er ude i bare 50 eksemplarer, så der skal nok rykkes ret hurtigt, hvis du vil besidde dette urimelige nyreslag fra Århus' nyeste gruppe utilpassede unge.
Om Yung skriver Shortwoord, "they spit out songs as girls change panties… None of the songs sounds the same, but theres a common ingredient in all of them. Check it out maaaaan," og det samme kunne hævdes om Bad Stroke. Ikke så meget pis.
Info: Yung kassetten og Bad Stroke kassetten er begge ude nu på Shordwood. Læs interview med Vulgar Deformity i ZINE #4.
previous post: Frk. Jacobsen –

Visioner over virkelighedens polyrytmik