Black to Comm –
Rundt på gulvet og til grin i erindringens spiraler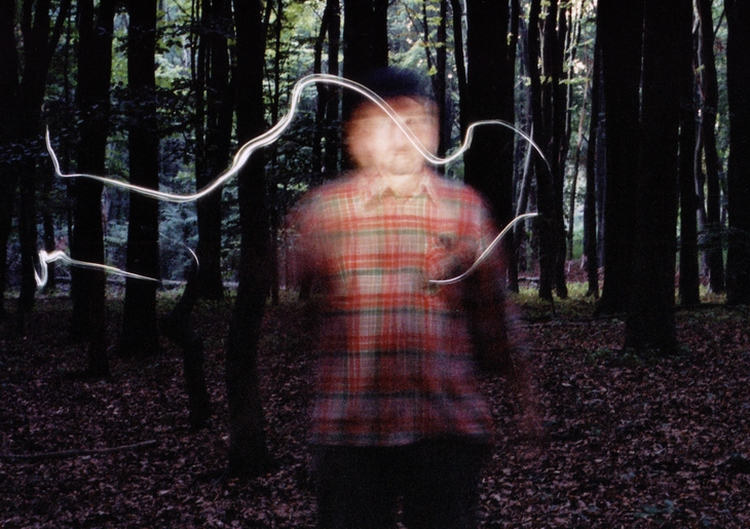 Af Mikkel Arre – foto: Renate Nikolaus
2014 var et strålende ambient-år, både i den afdæmpede, neo-klassiske ende af genrespektret (Bing and Ruth, A Winged Victory for the Sullen, Kyle Bobby Dunn), på field recordings-fronten (Klara Lewis, Mike Weis) og i de mere pågående og kraftfulde afkroge (Lawrence English, The Fun Years). Ingen nåede dog samme grad af surrealistisk uro, som tyske Marc Richter gør på sit nye, eponyme album under navnet Black to Comm.
Normalt er psyko-akustik læren om, hvordan lyd påvirker os psykologisk. Men "Black to Comm" kan på sin vis også betegnes som psyko-akustisk: Ved hjælp af langstrakte loops og en sær blanding af humor og horror giver Richter et bud på, hvordan psyken og især evnen til at fremkalde, forvrænge og fabrikere minder kan beskrives gennem lyd.
Manende synthflader og båndsløjfer med glitrende orgeltoner lægger bunden under skiftevis skræmmende, svimlende og spøjse samples. I åbningsnummeret "Human Gidrah" forvandler en kryptisk filosofi-monolog sig til en slags latterlig flammeskriftsprædiken, mens "Them" introducerer et fragment af en mandlig vokal, der desperat tigger: »Get this monkey off my back!« Fraseringerne har sikkert lydt seje og maskuline i originaludgaven, da de var omgivet af, hvad der må have været rock'n'roll – men her fremstår de snarere ynkelige og ubehjælpsomme. Den hvide rockmand i et vågent mareridt?
I "Spectre Teeth" svajer og runger udechifrerbare orientalske vokalbidder, der lige så vel kunne have endt på en Demdike Stare-plade. "Hands" er derimod snarere lyden af en stump af et stykke statelig klaverpop, der har sat sig fast i hukommelsen og nu kører rundt i ujævne cirkler i baghovedet omgivet af suk og underbevidsthedens hvislende forslag om »drugs«.
Kronen på værket er dog "Is Nowhere". Her gentager en blid tretonig orgelmelodi sig selv igen, igen, igen, igen i samfulde 20 minutter, mens hvæsende støj, skingre hyl fra løbske maskiner og en mildt sagt urovækkende smasken på skift trænger sig på. Ja, der når endda også at blive etableret forbindelse til en hjemsøgt koncertsal, hvor et flygel mekanisk repeterer fem dramatiske anslag. På skrift lyder det ret enerverende, men som sonisk stream-of-consciousness er det eminent.
Man kan med en vis ret hævde, at "Black to Comm" med sine 83 minutters varighed er lige rigeligt lang. Til gengæld er det de allerfærreste ambientplader, der er lige så spraglede og underholdende.
Info: "Black to Comm" udkom i slutningen af november på Type Records.
previous post: Jvtlandt –

Freejazzens idealistiske væbnere (interview)