Plants –
kosmisk synthesizertrance og et forvrænget rodsystem af bisætninger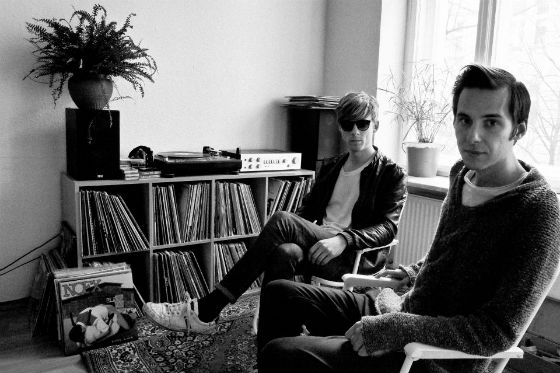 Kasper Vang og Theis Ørntoft er to musikalske grøntsager (så er de vegetabilske jokes fyret af, på ære!), du kommer til at høre mere til fremover. Ikke kun fordi de er et par kreative gutter: Kasper begår sig også som visuel kunstner, og Theis har tidligere slået sine folder i Twins Twins, gået på Forfatterskolen og udsendte i 2009 den flabet charmerende digtsamling "Yeahsuiten". Men også fordi de sammen har gang i en yderst interessant musikalsk rumrejse som duoen Plants. De er begge bosat i Berlin, og man mærker den germanske inspiration i den luftige, tranceskabende og mildt monotone musik, der ikke lægger skjul på sin krautrock-fascination.
Plants numre er skabt via improvisation med guitar, bas, programmerede beats, bånd kørt baglæns, slørede vokalsamples og effektpedaler på overarbejde – med næsten poppede hooks og melodier, der vægtløst glider ind og ud af de elastiske kompositioner. Den forrygende, knap ti minutter lange 'Rise' er hallucinerende, repeterende og sfærisk synth-eskapisme med lag på lag på lag af tålmodige modulationer, den ligeså lange 'White Lips' er mindre beat-bunden og mere abstrakt og løs i kompositionen, indtil der kommer gang i rytmeboksen efter ca. tre et halvt minut, mens makkerparret skærer mere igennem på den halvt så lange 'Solar Dish', der udover det ligeledes rummelige lydbillede er præget af Twins Twins-klingende guitarakkorder og Ørntofts cocky snøvlen. Plants arbejder for tiden på en ep, der (7-9-13!) udkommer snart, og ud fra de smagsprøver vi yderligere har tiltusket os, bliver det lidt af et kosmisk mindfuck. Space is the place, som man siger.
Plants spillede debutkoncert på Festival of Endless Gratitude og kan opleves som opvarmning for Kiss Kiss Kiss den 7. november på Teater Grob (RSVP).

previous post: Everybody is searching for something –

Jonas Munk laver soundtrack til "Searching For Bill"