Puce Mary + Drew McDowall + Kali Malone + Manisdron –
Reliable Noise (live report)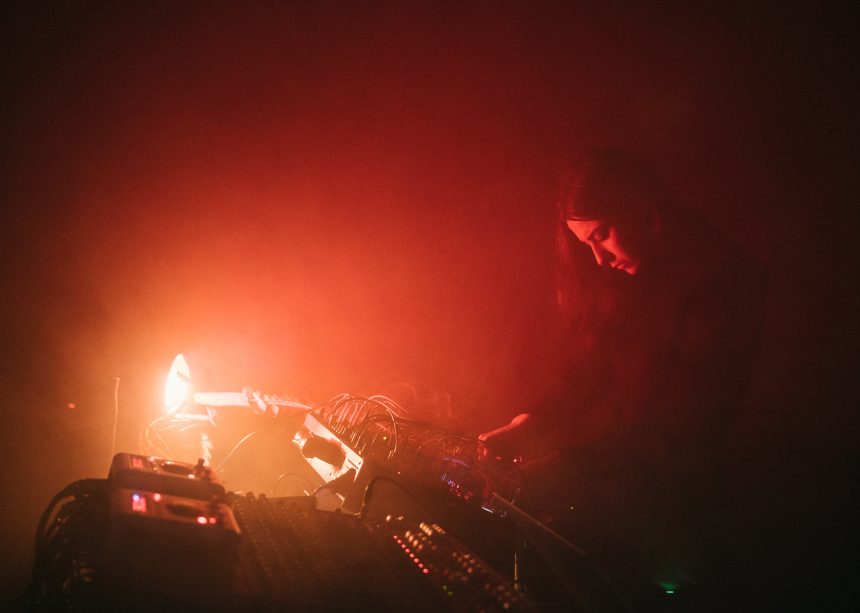 Percy x Knife Fest, October 24th at Mayhem, Copenhagen – live report by Ivna Franić, photo by Jakub Jezný
A few days before Halloween Percy Records and Knife Magazine joined forces with Alice for a night potentially dark and full of terrors, with a heavy bill featuring Puce Mary, Drew McDowall, Kali Malone and Manisdron. (The second part of their mini festival was set to take place at Basement the following night, with sets by Alpha Tracks, CORIN, Mana, Yen Towers and Yuri).
As both Knife Magazine and Percy Records have been throwing parties and events in various incarnations and combinations over the past few years, this recent collaboration on a small two-day "fest" hardly came off as unusual. And despite the excellent lineup and both Percy's and Knife's reliable audience, the event didn't feel as (over–)hyped as some other nights hosted by either party, which was probably for the better.
Manisdron – the solo project of Japanese artist and Goat drummer Takafumi Okada (listen) – provided an intro to the evening that was all but slow and gentle. Using drums, synths and voice Okada created a highly charged set that wouldn't have been out of place at a more dance-oriented event. While it might have seemed unusual to kick things off with probably the most energetic act on the bill, it actually made a lot of sense to sort of get it out of the way so as not to disrupt the more or less impeccable flow between the subsequent sets.
Kali Malone and Puce Mary have toured together before, Puce Mary and Drew McDowall have performed in tandem, and McDowall has been known to express his admiration for Malone's music, so seeing these three together on the bill made perfect sense from the get-go. The lineup materialized in practice worked just as well as it looked on paper, and it wasn't difficult to imagine this combo going on tour together somewhere down the line.
Hot on the heels of this year's equal parts monolithic and gorgeous album "The Sacrifical Code", and following her performance at a church for The Organ Sound Festival a few months back, Kali Malone was back in Copenhagen with an underground venue-friendly setup. And well, as it turns out, this variant of her live performance feels no less epic than the one including a church organ. Sounding perhaps somewhat less dramatic than on her records, Malone slowly but assuredly built up a set that showed just how delicate and emotive drone music can be at its finest.
Drew McDowall took on where Malone left off with his highly immersive performance mostly resting on his latest album, "The Third Helix", released late last year. Although both McDowall's solo material and his work with Coil is usually described in the context of dark ambient music, this set actually didn't feel that all that gloomy. The dense, lush ambient sound mostly came off as radiant rather than ominous, helping flow the overall mood of the night in a slightly lighter direction than expected. Almost a regular guest in Denmark, this evening McDowall delivered one of the better sets we have had an opportunity to experience so far.
Known for intense live performances with her Puce Mary project, Frederikke Hoffmeier showed once again that exerting control does not necessarily diminish the harrowing effects of a power electronics show. Puce Mary has been much more than a belligerent tape noise project for a while now, as confirmed by her exquisite latest solo record, "The Drought", which saw her introduce clearer vocal delivery, among other things.
This translates to the live show, taming the tension between visceral quality typical for her live performances and the more refined approach displayed on record. Interestingly, this method does not in any way make Puce Mary sound detached. In fact, her music seems to grow in an ever more empathetic direction – something that is often found to be lacking in noise music (as well as in the Nordic environment). Despite all the harsh elements, her set never felt like an assault on the senses, but more like an invitation to her bold sound that is captivating rather than simply confrontational.
All three aforementioned artists share a similar sensibility and a certain depth to the sound they explore within drone and noise genres. A delightful evening without a single uninteresting performance, the first part of Percy x Knife Fest casually proved that a strong – if somewhat safe – lineup and good sequencing go a long way.
previous post: Anders Vestergaard –

Et rendyrket svendestykke i komplekse, ceremonielle trommer