Rabit & Dedekind Cut –
Practicing different styles, all at once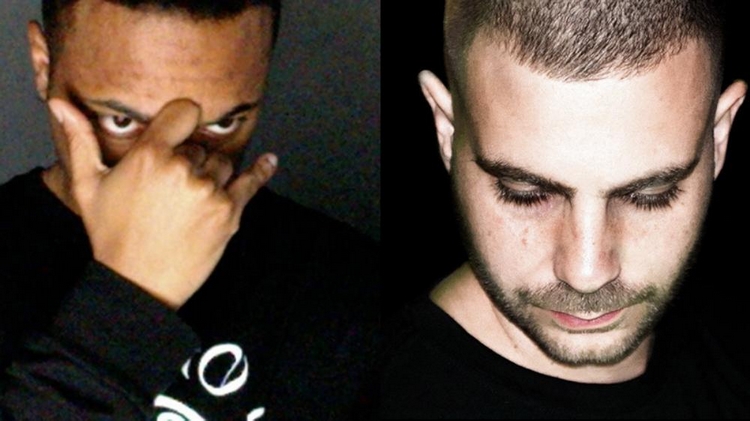 Rabit & Dedekind Cut "R&D" – Review by Ivna Franic
The collaboration between Eric Burton aka Rabit and Fred Warmsley fka Lee Bannon under his new, mathematical moniker, Dedekind Cut, might have seemed odd at first and perhaps even destined to result in an unhappy marriage of airy beats and aggressive gun machine sounds. However, to those familiar with Warmsley's output as Dedekind Cut, the whole thing should come as a natural continuation of his recent musical forays, also providing a welcome outlet for both artists to explore some often overlooked aspects of their work.
The opening track, "i" starts the EP off in a calm if slightly anxious manner, sounding almost gentle in comparison to, say, "Advent", the ominous opener of Rabit's 2015 album, "Communion". Well, at least that's what it seems like for the first minute and a half until the twisted vocal samples come in along with bleak breakcore rhythms, turning the track into an altogether different beast.
The sparkly meditation of "ii" is similarly interrupted with cut-up down-pitched vocals; only "iii" kicks off immediately with a furious beat that will soon be overpowered by abrasive sound that wouldn't be out of place on a Death Grips release.
In barely 12 minutes, Rabit and Dedekind Cut effortlessly switch from ambience to dissonant noise playing with rhythm and texture along the way, bringing "R&D" to an end with a Burial-like urban-alien sample morphed with some early noughties breakcore.
Genre-hopping is far from being the most interesting this collaboration brings to the table, though. Shedding the light on certain elements of both artists' music that are frequently missed out on, "R&D" serves to prove there's much more to Rabit's sound than imbuing experimental grime with industrial influences. It also suggests Walmsley's newfound affectation for breakcore may be coming from the same dark place as some of his previous jungle and d'n'b inspired work. All the differences in the artists' respective expressions only seem to point at the common ground of more or less successful experiments in deconstructing different types of electronic music.
Walmsley's breaking away from the old alias for good and the first attempt at reinventing himself as Dedekind Cut came last year via somewhat unnoticed "Thot eNhançer" EP, on which he traded the trademark soothing jungle/d'n'b instrumentals for dark and often quite rough breakcore. But it is in the light of his recent mix for NON Records that the collaboration with Rabit makes the most sense, marking a transition – or an initiation of sorts, if you'd like – to the circle of some of the most forward-looking producers of the moment, gathered largely around the aforementioned label.
"Black History Month in 3D" is an insane half-hour ride on which voices offer to "put you in touch with that anger" while r&b vocals not knowingly sing over a System of a Down sample. It may not be as cutting edge as Rabit and Chino Amobi's epic "The Great Game: Freedom from Mental Poisoning", a monolithic mix that easily sits among last year's finest releases, but it sure cements Dedekind Cut's status as an important actor in electronic music's radical underground.
That being said, although "R&D" may be little more than an exercise in styles for Burton, for
Walmsley it marks an important step in establishing a new musical persona, arguably more intriguing than the one we've come to know through his pre-2015 releases. While it does offer an interesting offshoot for both parties involved, "R&D" is far from showcasing "the best of both worlds" – but that was hardly the point anyway.
Info: Rabit and Dedekind Cut self-released "R&D" mid-January.
previous post: Simon Whetham –

Lydkunstner i kamp med sit eget råmateriale