Synd & Skam –
Live at Mayhem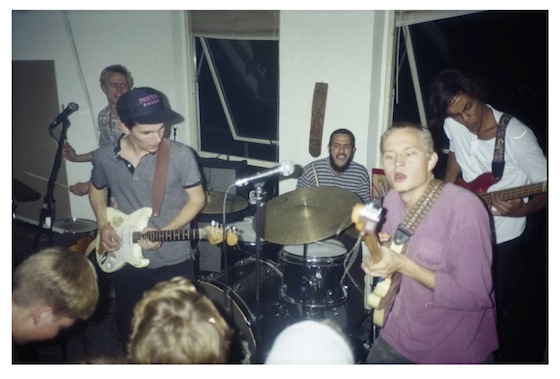 Det velomtalte improvisationsorkester Synd & Skam har netop annonceret, at de udgiver hele to lp'er på Escho (Thulebasen, Lower, Iceage m.fl.) i 2013 efter et par mindre udgivelser og medvirken på Af Med Hovedet samlinger. I mellemtiden har vi fundet deres live-optagelse fra Mayhem sidste år, som blandt andet tæller "Flyver Fugle", der er med i de nye sessions.
Netop med Synd & Skam er kendetegnet ved et blomstrende live-show, som har humør, danselyst og en indbygget udfordring: For hver koncert kæmper de for at forny udtrykket, have det sjovt og være på kanten af det, der eksisterer. Det er kunsten at optræde på hjemmebane i Henning Young, Mayhem og Harders eller på udebane i Oslo, i Bremen og i Aarhus – og at ville være noget, selvom man ikke vil være det samme.
Info: Synd & Skam "Live at Mayhem" er optaget den 31. maj 2012 af Per Buhl Acs og mixet af Lukas Rasmussen. Det er udgivet af Af Med Hovedet som følgebånd til LP'en "Blafret Ør Af Kjoler" (2012, Insula Records).
Trackliste:
1. Hest (side A)
2. Bruce (side A)
3. Flyver Fugle (side B)
previous post: Silver Jews –

The Elephants are so ashamed of their size