6つのエレキギターのための音楽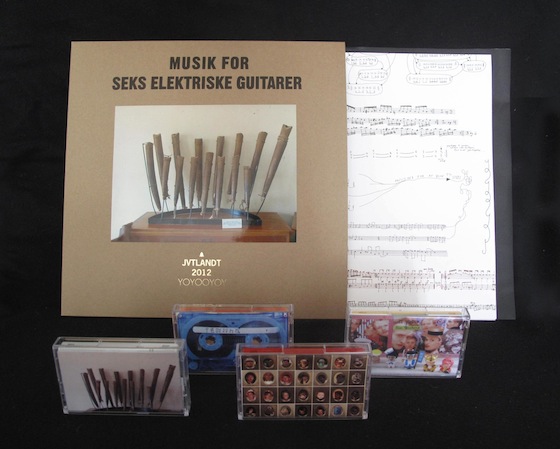 Bandlederen i dette afrikanske og perkussivt inspirerede projekt, Musik For Seks Elektriske Guitarer, er Anders Lauge Meldgaard, der er en fjerdedel af yoyooyoy, Frisk Frugt, Supermelle, samt medlem af Slütspürt og Kirsten Ketsjer, og desuden introducerede den heliotopiske musik for planter.
Man kan udlægge det således, at kompositionerne er cirkulære og på en måde genopliver en suppedas af minimalisme, no wave, lo-fi og avantgarde spillet af Steve Reich, Terry Riley, Glenn Branca, David Borden, men sender også en løs parallel til den afrikanske musiks guitarspil og rytmik, som Meldgaard under navnet Supermelle personligt har undersøgt af flere omgange. Projektet, der blev præsenteret første gang i Råhuset i 2010 af Jazz Club Loco, var oprindeligt et benhårdt koncept med præcis én times musik med seks elektriske guitarer med kun én streng hver (deraf netop seks guitarer), således opstår i naturlige, repetative mønstre improvisation.
The idea for the guitar sextet sprung while Meldgaard was traveling through Mali and Burkina Faso and encountering the local music. Much impressed by the simplicity, discipline and tightly knit collaboration of the musicians he witnessed, Meldgaard decided to explore a similar strategy for the electric guitar. The result takes minimal compositions, based on extended repetition and microscopic – yet danceable – grooves, as a departure point for climactic improvisations. Invoking, perhaps, as much the minimalism of Steve Reich as the cathartic rhythms of Konono No. 1, approaching even progressive psychedelia. (via JVTLANDT)
Musik For Seks Elektriske Guitarer udkom i august på yoyooyoy og JVTLANDT. Guitarerne på albummet spilles på skift af Oliver Hoiness, Andreas Pallisgaard, Claus Haxholm, Martin Vognsen, Andreas Führer, Laust Færch, Kasper Vang, Tobias Fuglsang Mynborg og Anders Lauge Meldgaard. Der er et begrænset oplag på 20 med hele pakken af LP+4CS via yoyooyoy's webshop med båndene "Supermelle Anbefaler The Japan Tape Collage", "6つのエレキギターのための音楽", KAPPAS TECHNØ BILMIXBÅND" og "Bubbletyggegummiboble". Her er vi ude i J-pop, drone, manipuleret japansk musik og en udvidet version af et af numrene fra pladen.
previous post: Det syvende familieportræt (FRKWYS feat. Borden, Ferraro, Godin, Halo & Lopatin)