Age Coin –
Techno med adrenalinkicket som puls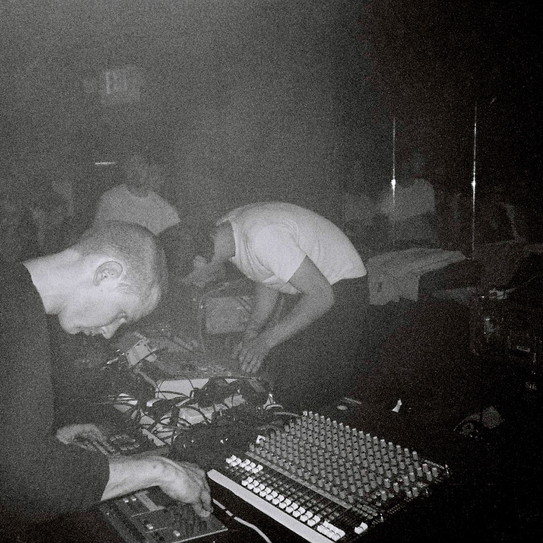 Age Coin "She Who Sold Me Told Me" (Posh Isolation, 2018) – anmeldelse af Emil Grarup
For nylig udgav den efterhånden rutinerede københavnske technoduo Age Coin EP'en "She Who Sold Me Told Me". Simon Formann, forhenværende guitarist i postpunkkvartetten Lower og nu aktiv med technoprojektet Yen Towers og som medlem af eksperimentalpop-trioen Khalil, udgør den ene halvdel. Kristian Emdal, forhenværende bassist i Lower, nuværende i Marching Church, udgør den anden. EP'en er deres syvende udspil og er, ligesom størstedelen af deres forrige udgivelser, udkommet på pladeselskabet Posh Isolation.
Rutinen til trods virker det dog ikke til, at duoen er gået ned hverken i tempo eller intensitet. Snarere tværtimod, hvis man tager udgangspunkt i "She Who Sold Me Told Me" og deres EP fra tidligere i år, "Maybe Fake Is What I Like". Begge byder på industrielle techno-kompositioner, der placerer sig i den hidsige ende af skalaen.
EP'en er delt op i to numre. Titelnummeret sparkes igang af en aggressiv stortromme og får hurtigt derefter selskab af adskillige skingre synthesizerlinjer, som hektisk arbejder sig frem mod en slags refræn: Det hele kulminerer i en eksplosion af trance-agtig staccato-synth og tung og dyster sub-bass. En stil, der er vanskelig at forklare, men som lyder nogenlunde, som jeg ville forestille mig et soundtrack til de digitale transaktioner på det internationale børsmarked: æterisk lethed og industriel præcision i samme bevægelse.
"MAYYAN" er et mere afdæmpet og mudret bekendtskab. Først efter to minutter finder nummeret en form for rytmisk fodfæste med en dyb, flimrende basgang og et nervøst knitrende trommemaskine-beat, der efterhånden akkompagneres af en repetitiv synthesizerlinje, der mest af alt minder om en lyden af politisirener dæmpet gennem en væg. På dansk grund kan man fra "MAYYAN" drage paralleller til kunstnere som Minais B og Astrid Sonne, mens titelnummeret snarere er sammenligneligt med den lyd, som snart EP-aktuelle Lyra Valenza lagde for dagen på deres debutudgivelse fra sidste år, "Synkronspring i tomt bassin".
Begge numre gennemsyres af en særlig puls, som jeg ikke erindrer at have lagt mærke til på Age Coins tidligere udgivelser: EP'en virker struktureret omkring følelsen af at være i alarmberedskab, og således er det adrenalinens opkvikkende effekt på krop og sind, hvis rytme den følger.
Heldigvis er denne puls det element, der fylder absolut mest på udgivelsen, hvilket også er det, der gør EP'en så voldsomt vellykket. Netop fordi denne intuitive rytmik bliver EP'ens primære gestus, virker Age Coins lyd både frigørende og vitaliserende på en måde, som få andre kan mønstre.
Info: She Who Sold Me Told Me udkom d. 5 oktober på Posh Isolation.

previous post: Audiodrome –

R for de Roubaix, François