Exquisite Russian Brides –
Desorienterende dub midt mellem stilstand og fremdrift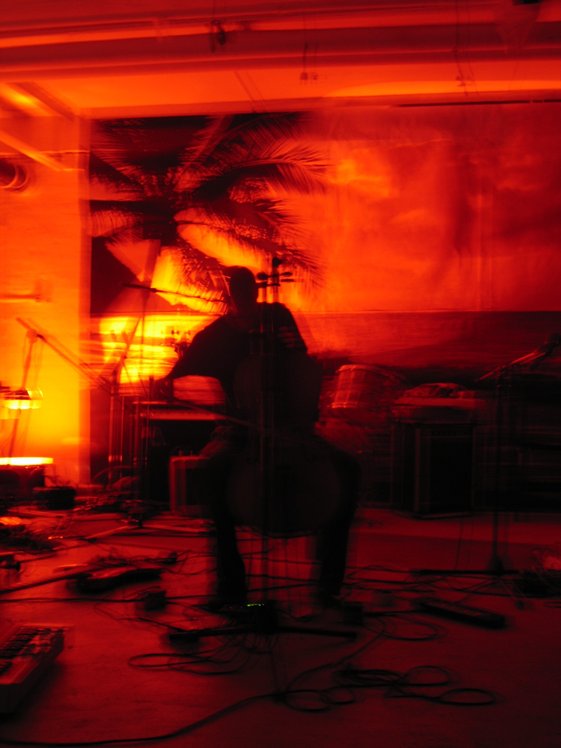 Af Mikkel Arre
Marc Kellaway har været en del af den københavnske undergrundsscene i efterhånden et par årtier (i bands som Vinyl Dog Joy, Distortion Girls og The President's Heart), og han udgav sit 10. album under navnet Exquisite Russian Brides midt i maj. Men "Overflow Variations" kommer først for alvor til sin ret her et halvt års tid senere. Som det grålige cover indikerer, er det her nemlig musik til de kolde måneder. Vel at mærke musik, man kan varme sig ved: Albummets afsæt i dub gør det til den hidtil mest imødekommende Exquisite Russian Brides-udgivelse.
At solen på coveret er indhyllet i dis, er meget sigende. Stort set hele vejen gennem pladen er de vuggende basrundgange og trommemaskinens sparsomme slag svøbt i susende lydflader. Nogle steder er det tydeligvis field recordings (f.eks. kendetegnet ved lyden af plaskende regnvand), men hovedsageligt er fladerne mere udefinerbare: Feltoptagelserne kan ikke umiddelbart knyttes til et specifikt sted, og hvornår de væves sammen med eller afløses af blid støj og udflydende synth, er endog meget vanskeligt at høre.
"Overflow Variations" er med sine seks numre fordelt over godt 80 minutter en meget tålmodig plade. Numrene imellem er der forskelle – nogle er mere ambiente; andre har så markeret en puls, at det giver mening at bruge kategorien dubtechno – men lighederne er klart i overtal. Derfor er "Overflow Variations" også en meget sammenhængende lytteoplevelse, som er rar at være i. Ikke ulig den langstrakte dubtechno fra canadiske Variant og Wolfgang Voigts første udgivelser under navnet Gas – begge er navne, som Kellaway selv nævner blandt sine inspirationskilder.
Kan du sætte nogle ord på, hvorfor sammenstillingen af susende field recordings og dub-puls tiltaler dig?
"Minimale rytmer og droner evner begge kombinationen af fremdrift og stilstand, som jeg holder meget af. Field recordings kan noget tilsvarende med transport. Jeg er meget fascineret af, hvordan man med collager kan skabe gradvise bevægelser gennem skiftende rum. Endelig er der også noget med det susende, som ligger på grænsen mellem så mange ting – båndsus, regn, vind, maskinstøj – og derfor kan skabe nogle interessant uklare rum tæt på den gode desorientering, man oplever på grænsen til søvnen. Måske man kan sige, at målet lige for tiden er en transporterende bevægelse gennem diffuse lydrum, og hvor den dubbede bas/puls er motoren, som driver bevægelsen. Som at være barn og sove på bagsædet af bilen på vej hjem fra familiefest."
Info: "Overflow Variations" udkom på eget label, The Cat Box Corp. i maj. Et opfølgende værk, den 37 minutter lange collage "All the rest overflow… (dub)", blev udgivet digitalt i slutningen af november.
previous post: Hjalte Ross –

Ingen tid er spildt på formfuldendt debutværk