Communions –
på hovedet i asfalten med hjertet i skyerne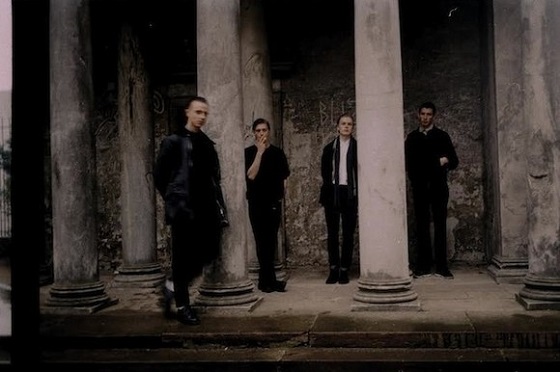 Af Adam Thorsmark. Foto Lasse Dearman.

Da Iceage gæstede Jazzhouse tilbage i august havde de udover en forrygende veloplagt og flabet Femminielli også danske Communions med som opvarmning. Kvartetten tog opgaven til sig med stor frygtløshed, langede brutal vellyd ud over menigheden, og kunne derfor sagtens tage del af æren for en af årets bedste koncertaftener. Nu er det København-baserede band signet på Posh Isolation, og første stykke musik præsenteret på nettet.
En vægtløs guitar-figur (sådan lidt The Cult-agtig) svæver hen over sangens første sekunder og hidkalder grandiøse 80'er-rock-anthems – indtil sangen tordner face first ned i asfalten ude foran Mayhem med velkendt båndstøj, dundrende trommer og aggressiv/længselsfuld vokal. Men Communions er tydeligvis ikke bare en popdestilleret version af Iceage eller Lower. Både sangen og deres seneste koncerter vidner om et stort bankende hjerte for new wave og fællesbrølende postpunk. Brødrene Martin og Mads Rehof samt Jacob van Deurs Formann og Frederik Lind Köppen (de to sidstnævnte fra N00bs Only og Zero Figure) gør deres egen ting, der giver musikken en løbsk rytmik og udtalt desperation. Og det gør de med en uhørt sans for bredformats-melodier – Posh Isolation-hjemmet taget i betragtning.
Det er spændende. Og det lugter langt væk af endnu et internationalt gennembrud for en til stadighed uforudsigelig KBH-undergrund.
Info: Ep'en "Cobblestones" er ude på Posh Isolation i december (der er noget med en mailingsliste, man skal skrive sig op på for at få den). Communions giver koncert til Salon:Pissoirs næste arrangement  sammen med Lower, Hand of Dust og Skurv. den 7. december (RSVP).
previous post: Salon:Pissoir –

En platform for expression og explosion (interview)