Elysia Crampton & Why Be –
Only mine, only yours (live)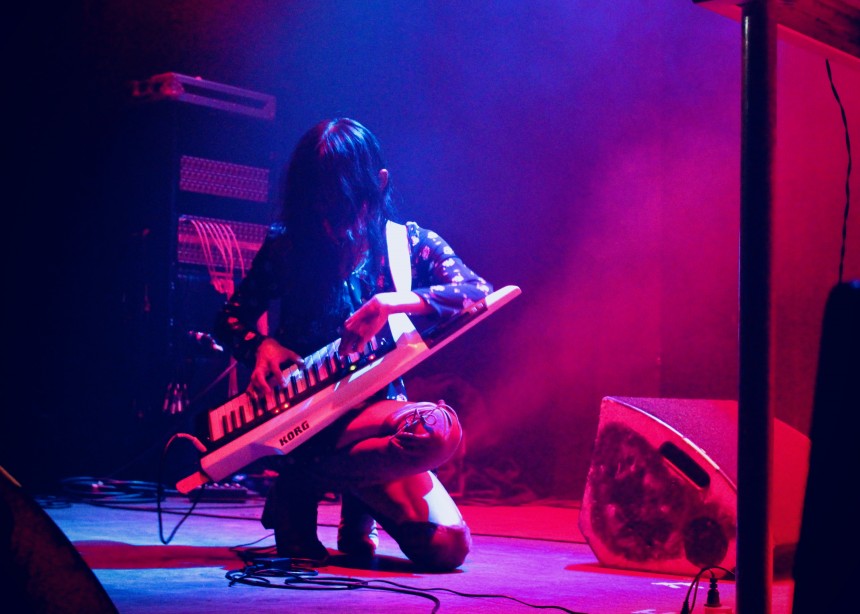 Live review of Elysia Crampton: 'Red Clouds' feat. Why Be 17.05.2018 at Alice by Cameron Pagett.
"You used to work in the LA scene? So like The Smell?" It's only a few moments into my first interaction with Elysia Crampton and we are already reaching back deep into California DIY Roots. It always brings me a certain warmth when people mention the international temples of good underground music and certainly one where I got my first taste of a certain texture of freedom. The Bolivian-born composer, producer and writer grew up in the Inland Empire, an area associated with many things, but certainly not a place with a likely trajectory for an experimental artist. With the backdoor open to the venue and light breeze filtering the backstage room, she relaxes languidly on the sofa straightening her hair as we converse. She is a good listener, and I'm not sure how much I can recall of the conversation but it had a flow that I feel reflected the attitude and energy of the evening.
Outside the patio was filling in with the energy of the gentle breeze, a sort of non-frivolous, melodic and rhythmic flow of faces ready to share in the final Proton show of the scheduled season. A friend approaches me and mentions the first set which will be played by Berlin-based and former Copenhagen resident Tobias Lee with his solo project Why Be. Having never heard him play live I was also curious, and even more so when I found out that Elysia and he would be sharing the stage in a joint performance. Crampton's 'epic poem', "Demon City", was produced in collaboration with, among others, Why Be and Chino Amobi, and their joint performance this evening was a showcase for her upcoming project, "Red Clouds".
Much of that early evening in the backstage room Why Be had sat with his hood pulled on and feet up against the makeup counter and I can't remember correctly exactly how, but he turned to me and we started talking. As secluded as he may have seemed on first observation, Tobias was quite inviting and we had an interesting talk about his style and how he works. Sporting a very stylish shirt from the Thai National Soccer team and a pair of Matrix style shades he headed toward the stage to start the night as everyone filled in from outside.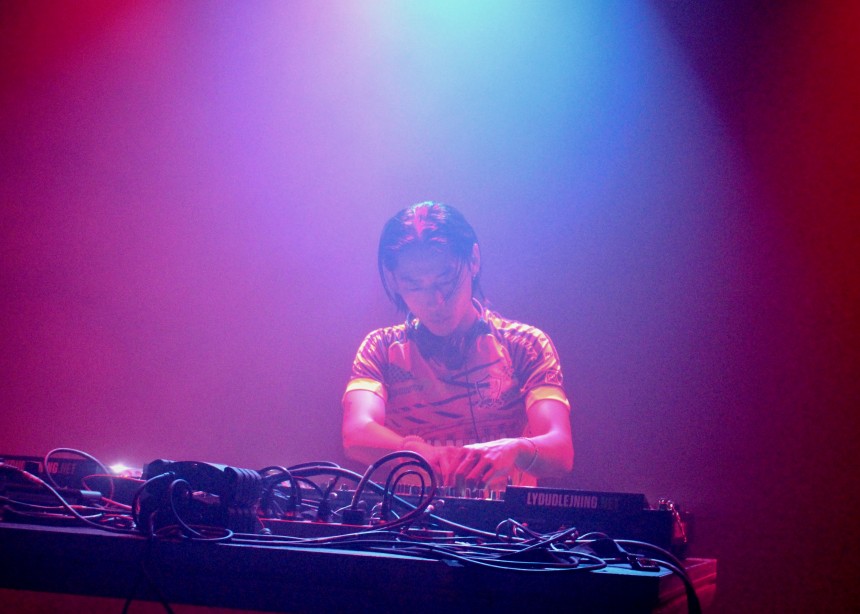 It's hard to describe exactly how Why Be plays. It's an interesting amalgam of surprising samples with noises originating from pop sensibilities to all out extremes. Definitely very different and a nice change up from the harsher sounds that seem to be dominating at the moment. "I think what he does with the sounds and the samples is really inspiring. I hear music like that in my head a lot I feel, but he is actually producing it and it's unique," remarked one guest. Why Be seemed to be unafraid of moving into new territory with his selections and the room felt very cozy during the performance. Many seemed content to listen, relax and nearly inhale the sounds in. When you think of "experimental" as a genre, I suppose that there is a certain texture and sound that dominates the immediate thoughts around what to expect.
"I want everyone to feel free to sit and just relax … It really feels like that type of night," said Crampton, who made her first appearance in Denmark with a great solo set at Phono Festival last year, in the window of a small break before she and Tobias started the headlining set. "It feels nice when a full room can feel comfortable to be so close."
Crampton makes a sound that is reminiscent of a dramatic score to a futuristic film noir. You can feel the others around you, you can feel the warmth of everyone else's seclusion in their own experience. Apart and separate it's like sitting in an escape pod of an intergalactic Titanic blasting off with all the other small craft hurling into space with you. Across the expanse are a thousand lights sweeping onward across the horizon … you are alone, but you are not. You can swear you were in one collective thought bubble, but remember nothing after closing. You don't remember melody, only passing sentiment and how it made you feel. Much has been made about Crampton and the conditions that have led her into the underground experimental world. Taking away all that has happened and sticking to the upbringing in California's infamous Inland Empire and it is already confusing and remarkable enough. That she has been able and continues to channel it into this is commendable and a pleasure to be able to see. We were together, we were alone. The room was brimming and everyone was glad for a listening experience that was quintessentially individual. Only mine, and only yours.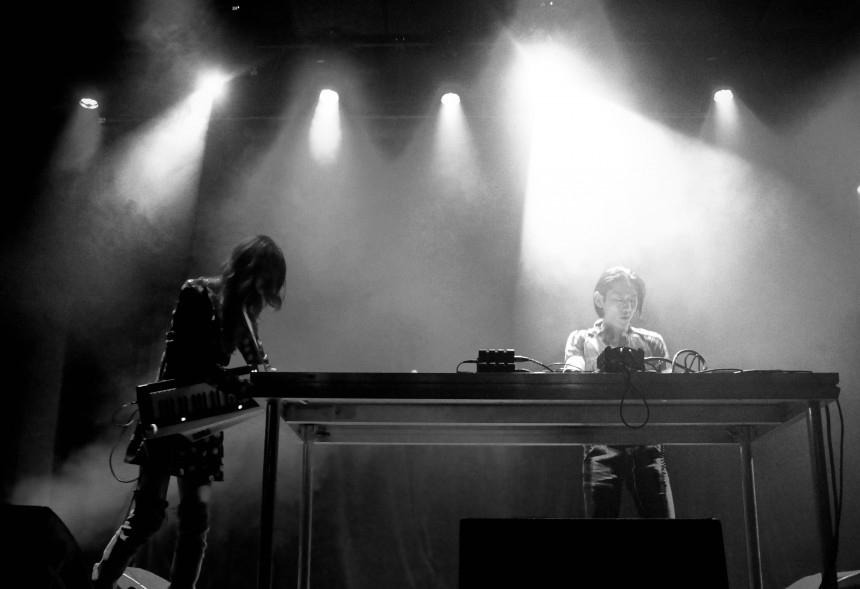 previous post: Clarissa Connelly –

Fine fortællinger (mixtape + interview)