Intonal Festival 2023 –
Bold Choices
Intonal Festival, 26th–30th of April, Malmö. Review by Ivna Franic, Photos by Camilla Rehnstrand
Malmö's Intonal Festival has made it a part of its image to present lineups that don't necessarily fit the usual European festival mold. At first glance, the festival's 2023 program gave the impression that the curators were either extremely daring or knew their audience very well. Or, who knows, it could have been a bit of both.
Having already featured some lineup favorites such as Laraaji, Valentina Magaletti and Laila Sakini on Wednesday and Thursday, the festival slowly eased into the weekend. After shows by industrial legends :zoviet*france: and sound artist/musician Felisha Ledesma, Swedish punk techno outfit Vanligt Folk got the party started on the big stage. Sort of? Presenting the world premiere of their new A/V show "Dischorealism", developed in collaboration with Danish video artist Tobias Toyberg, Vanligt Folk seemed like they would have done much better in a late-night slot. Maybe it wouldn't have taken so long for the audience to really get into their raw performance, complete with crazy visuals and the nearly naked frontman's forays into the crowd.
The one act that pretty much had everyone hypnotized from the get-go was Coby Sey. Even though his debut album Conduit got a decent amount of love as one of the more intriguing releases of last year, it didn't necessarily grant him instant headliner status. But what might have seemed like a bold move on paper – putting Coby Sey in one of the prime slots on a Friday night – turned out to be a good foresight, as his performance gave the feeling of witnessing a star in the making. After opening with a set of gentle, slow songs, Sey shifted into an intense, politically charged mode halfway through the show. Suddenly it was clear why he'd chosen to wear a beret as he launched into a cathartic, cacophonous sermon. Sey ended things by standing alone on a stage and performing a stripped-down cover of Seal's "Kiss from a Rose. He asked the audience to sing along, and everyone seemed to really want to, but it was at that moment that many of us realized that we didn't really know the full lyrics to the song, except for the chorus. It was a fun ending to one of the highlights of the festival.
The overall takeaway from Friday night at Intonal was: this is what happens when you don't underestimate your audience.
Norwegian saxophonist Bendik Giske had no easy task following an exhilarating performance like Sey's all by himself. Fortunately, he was up to the task. Clouded by pink and purple fog, Giske went straight to the point and delivered a set that was strong from the first minute, not even technical difficulties could get in his way. Giske may be very stylish, but he was also disarmingly charming, visibly enjoying what he was doing throughout the performance. This was just an additional layer that made the show a pleasure to watch.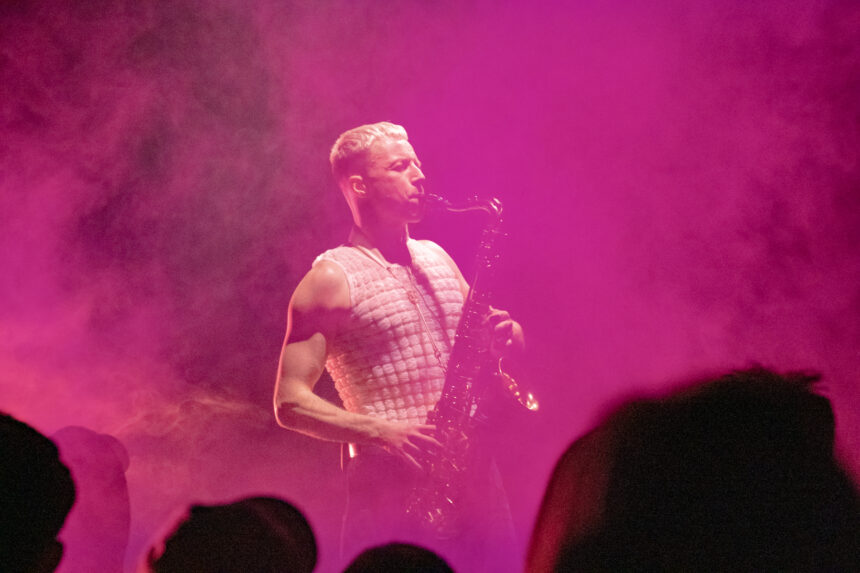 The overall takeaway from Friday night at Intonal was: this is what happens when you don't underestimate your audience. The festival went ahead and gave two key slots of the evening to an artist who is just becoming a fixture on the festival circuit and a saxophonist who plays all by himself… and it worked. It worked great, in fact, and gave us two excellent shows without anyone seeming to notice how unusual this scheduling choice was.
On Saturday there was a lot going on throughout the day at various venues around the city. Over at Whose Museum, Malmö's Retreat and Brussels' Kiosk Radio hosted a series of live radio sets by selected artists, some of whom were also performing at the festival. Recent Malmö transplant Felisha Ledesma delivered a lovely ambient set, followed by an energetic selection from Anxious Beat Director.
Back at Inkonst, most of the best shows on Saturday were the ones on the small stage, which were anything but filler between the main acts. The evening kicked off with a new live show from Danish artist Nic Krog, formerly known as Misantrop. Fusing the now recognizable Copenhagen brand of ambient electronic music with abrasive, industrial leanings and a post-punk-infused, deadpan style of spoken word delivery, Krog delivered a confident set that leaves much to look forward to in future releases under their own name.
Shifting between electronic music, abstract experiments and beautiful vocal tracks, Phew nonchalantly delivered a deliciously mischievous, kaleidoscopic set.
Down in the Black Box, Copenhagen-based percussionist/multi-instrumentalist Ying-Hsueh Chen and trombonist/synthesist Maria Bertel joined Mexican artist Vica Pacheco to create a live soundtrack for her original animation. The trio, who collaborated on the development of the musical piece, constructed a performance as delicate and mesmerizing as the visuals. As the plant motif revealed its meticulously crafted details on the giant screen behind the performers, the sound seemed to delve into the paths of the plant's tiny root canals, following different cues and coming up with a myriad of solutions. The world premiere of Jay Glass Dubs' performance "#1 In England," accompanied by a single-shot walk through a nocturnal urban landscape, was equally subtle but never fully unfolded. By contrast, Rian Treanor's new A/V dance performance, developed in collaboration with artist Leila Ziu, was anything but subtle. Those of us who had trouble getting into it were fortunate enough to stumble upon one of the festival's unexpected highlights on the small stage.
Electronic improviser and legend of the Japanese underground scene, Hiromi Moritani aka Phew, was determined to do her own thing, regardless of the commotion at the bar or the sounds coming from other stages. The approach seemed to pay off, as the area was eventually packed, with everyone trying to get a glimpse of the person sitting on stage with her modest setup, creating all this magic. Shifting between electronic music, abstract experiments and beautiful vocal tracks, Phew nonchalantly delivered a deliciously mischievous, kaleidoscopic set.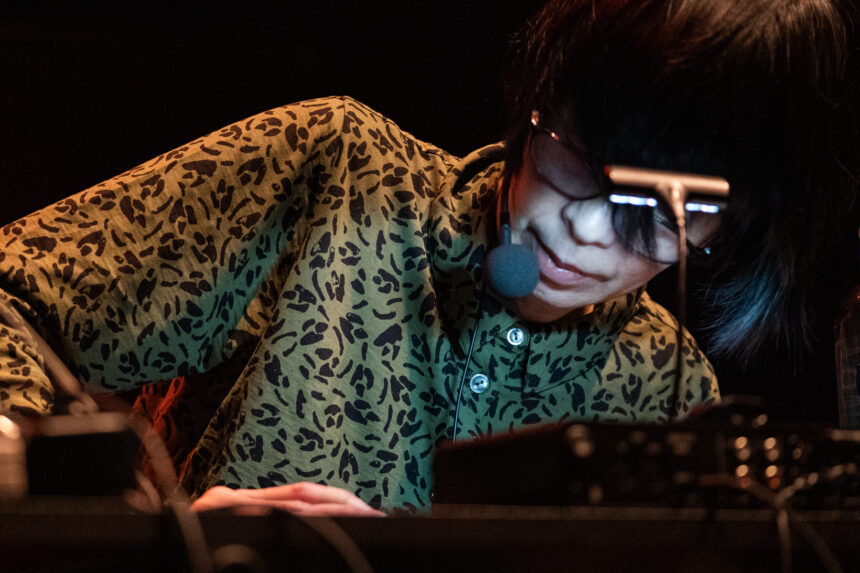 Eclectic is not always good, however. Equiknoxx's Gavsborg set on the main stage was all over the place, but in a way that could potentially satisfy a wide range of audiences without connecting deeply with anyone. The same could be said for Berghain resident Fiedel, whose set sounded rather uninspired and even included bits like a techno remix of "Somebody to Love". The same audience that literally listened to a solo saxophonist at midnight the day before could probably handle something a little more adventurous.
What better way to cut through uninspired party sets than some good old-fashioned noise?
Compared to Friday's daring program, Saturday's Intonal seemed to play it safe as far as the main stages were concerned. But as mentioned before, the small stage was there to save the day. What better way to cut through uninspired party sets than some good old-fashioned noise? Statoil, a self-proclaimed "static-oil-core" band, delivered exactly what that sounds like: a thick, dark, heavy and sticky noise rock set. (A rather brilliant move; more festivals should consider adding noise acts between the parties!) Later on the same stage, both Safety Trance and K Means delivered fun, genre-bending sets, while former Copenhagen resident Solid Blake provided a more than solid finish to Saturday's program down in the Black Box.
Regardless of the fluctuations in set variety, this was another strong year for Intonal. What sets this festival apart from many other adventurous music festivals across Europe is its apparent grounding in the local scene, as well as its consistency over the years. A strong relationship with the local audience, based on mutual trust, gives the team behind Intonal a rarely exercised freedom to make interesting, non-conventional programming choices. And even if it doesn't always work out, it makes for a compelling approach that keeps audiences coming back year after year.
previous post: Puyain Sanati –

Et ubesvaret spørgsmål i det sidste åndedræt