MMH Radio –
Mixtape fra en kollektiv radiostation med et globalt øre og københavnsk hjerte
Tweet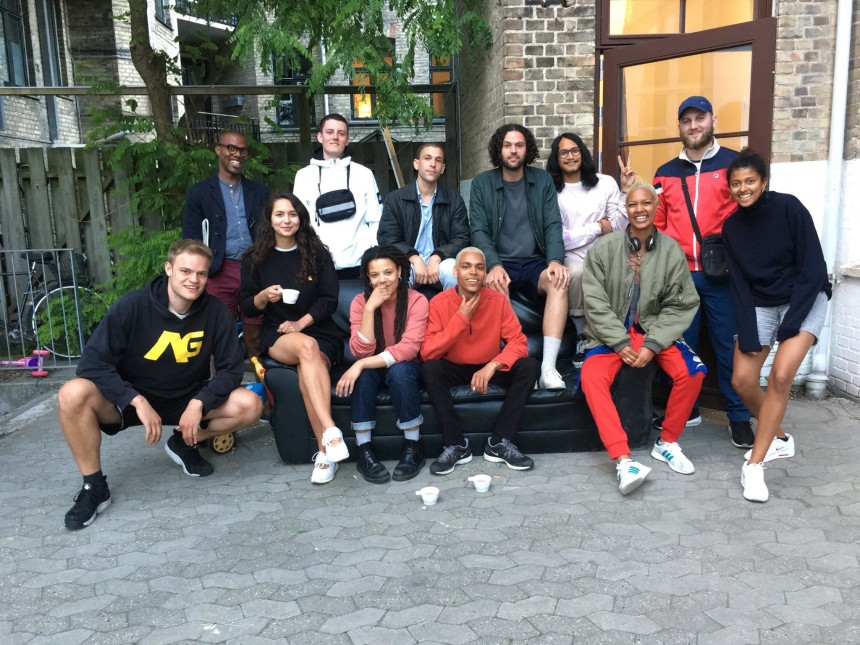 Af Sandra S. Borch. Mixtape af Malika Mahmoud.
Det startede i 2016, og på lidt over halvandet år er MMH Radio gået fra idé til at være et stort radiokollektiv med street 'savoir faire'. Kvinden bag internetradioen hedder Malika Mahmoud, der efter at have arbejdet for den britiske internetradio NTS i London tog tilbage til København med ideen om at starte noget tilsvarende. Malika Mahmoud Henriques grundlagde MMH Radio sammen med et par venner og otte resident DJ's.
I dag består radioen af mere end 35 mennesker, der elsker musik; "Det er meget vigtigt for os, at MMH Radio er en fælles radio, hvor alle vores DJ's, frivillige og folk bag kan komme med inputs og ideer. Musikken er samlingspunktet i vores radiofællesskab, hvor folk respekterer hinanden som personer og hinandens smag. Derfor har radioen på dette halvandet år meget bare formet sig selv," forklarer hun og tilføjer: "Ydermere håber vi på, at MMH Radio kan repræsentere dansk musik og bruges som et eksponeringsplatform for udenlandske lyttere, for alle de talenttfulde DJ's, som vi har i København og i Danmark." Næste kapitel for radiostationen er at flytte i et nyt studie, og næste måned kan du følge MMH Radio lave gæsteshows hos New Yorks The Lot Radio (www.thelotradio.com) og 8 Ball Radio (www.8ballradio.nyc).
Malika Mahmoud har lavet et mix til Passive/Aggressive og fortæller her om sammensætningen: "Mit mix er lavet lidt som et radiomix. Det er musikken, der bærer mixet, men det, jeg tænker over, når jeg planlægger et mix eller radioshow, er, hvordan jeg kan få alle de numre til at passe sammen, selvom det ofte er helt forskellige numre i genre og tempo. Et godt mixtape for mig indeholder en udvikling, men på en måde, hvor man nødvendigvis ikke tænker over, at man på en time har hørt reggae, psykedelisk funk og house. Jeg havde egentlig planer om at lave et mere mellow mix, men vejret har været for godt i den her måned. Så mit mix bærer helt sikkert præg af solskinnet."
Du kan finde alt fra Saharas lokale helte til amerikansk R&B fra den tidlige halvdel af 1960'erne i dette MMH Mixtape til Passive/Aggressive; vi skal gøre opmærksom på, at nogle af numrene er indspillet fra vinyl, så du kan høre charmen. Lyt til mere radio på www.mmhradio.com.
Trackliste:
Napoleon Cherry – When You Had The Chance
Ralfi Pagan – El Hijo de Mama
Sudan Cadogan – Do It Baby
Jennifer Lara – I Am In Love
Sandra De Sa – Olhos Coloridos
Alcione – Figa De Guiné
Djavan – Nereci
Bacao Rhythm & Steen Band – Love Like This
Group Anmataff – Tinariwen
Cala Boca Menino – João Donato
Duval Timothy – Whatsapp
Petit Yode & L'enfant Siro – Antilaléca
Admas – Anchi Bale Game
Prequel – Saints
—
Claudette et Ti Pierre – Zamni Camarade
Dee Dee Sharp Gamble – Nobody Can Do what You do
Lady E – Seems to Me
previous post: Will Long –

Diskret aktivisme med synkoperet rytmik