John Chantler & Johs Lund –
Singulære tilstande af ro og vildskab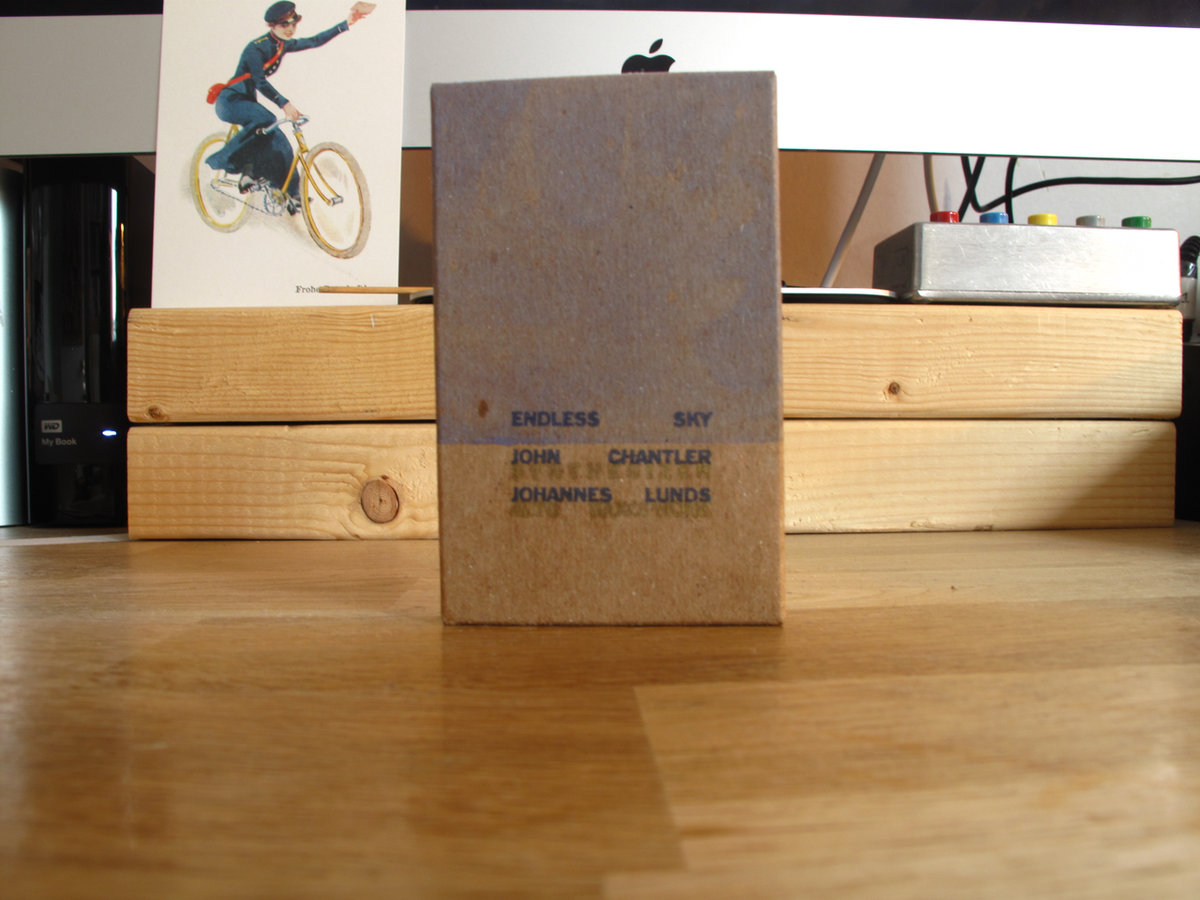 John Chantler & Johs Lund "Endless Sky" (selvudgivet, 2017) – anmeldelse af Simon Christensen
Vi får at vide, det er en synthesizer, men det lyder som et strengeinstrument, der producerer en lang meditativ drone. Samtidig hører vi 'cirkular breathing' på altsaxofonen fra Johs Lund, som hele tiden overskrider den rene tone og bliver gradvist mere abstrakt i løbet af albummets første side. Den anden del starter først midtvejs på B-side, hvor det lyder som et larmende modularstykke og en forstærket saxofon, der arbejder med interferens, dissonans og støjens teksturer. I al sin kraft er der både en ro og en vildskab.
Australske John Chantler, der via en årrække som booker på Cafe Oto, udgivelser på Room40 samt eget label er landet i Stockholm, hvor han nu booker musik på Fylkingen og står bag Edition-festivalen. Johs Lund spiller tilsvarende en central skabende rolle i det københavnske musikliv, hvor han er en fjerdedel af Yoyooyoy og en af de fire grundlæggere af Mayhem. Han er dog helt klart musiker og komponist først med en række egne minimalistiske værker for saxofon, synthesizer, orgel og enkelte gange stemmen. Han har også komponeret stykker som "Spiral", "Circles" samt "28" til Borealis-festivalen, opført musik af Henning Christiansen og er medlem af Gud Er Kvinde, Slutspurt, Yoke & Yohs mv.
"Endless Sky" er ikke stor kunst for de mange og er da heller ikke udgivet som sådan med 50 eksemplarer på et kassettebånd. Værket er heller ikke mixet særligt lyttevenligt, da synthesizeren er voldsom høj i forhold til saxofonen, og man må derfor skrue godt op.
I stedet er det to plateauer af hhv. 19 og 11 minutters varighed, der karakteristisk for de to kunstnere er singulære i instrumenteringen og minimalistiske i udtrykket (i grove træk består John Chantlers bidrag kun af en enkelt tone per stykke). Således sammenstiller "Endless Sky" på ondt og mest godt med en meditativ tilstand af to meget forskellige former for fri musik; dronemusikkens opløsning af tidsbegrebet og freejazzens fravær af puls. I yderste konsekvens er det et abstrakt og ekstremt udtryk, der insisterer på at være kunst i kraft af sin fremstilling, og som vil forhandle med en lyttetilstand. Det siger: Her er der noget, kom og mærk det!
Udgivelsen er baseret på en række duokoncerter og en tour, som Chantler og Lund var på i 2016. Til den hjemmeproducerede båndudgivelse har skribent Nathan Budzinski skrevet liner notes baseret på sin oplevelse af en koncert (de kan læses her):
"It is useful sometimes, inasmuch as the idea connects music directly to animals, landscape and endless cosmos – dumping us humans and our machines and activities into what was once called nature. Sound and silence drift uncontrollably, endlessly, until they find music. Music makes our minds drift uncontrollably but gives us an interface with the world."
Info: John Chantler & Johannes Lunds "Endless Sky" udkom i juli. Der skulle være koncerter på vej i oktober.
previous post: Labert Oppmøte –

Postkort fra Lofoten