Nyt label –
Vulgar Deformity udsender Fright Eye og Happy Hookers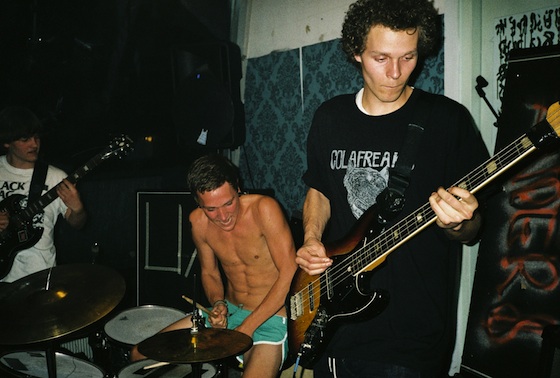 Det nystartede Århus/Skive-wtf-label, Vulgar Deformity, som bliver drevet af Matias Gulvad og Jeppe fra Urban Achievers, har to nye udgivelser på vej. De følger op på deres første kassettebånds-udgivelse Urban Achievers s/t, der kom i 25 ex. og nu selvfølgelig er udsolgt.
Næste udgivelse er med Fright Eye, der holder tingene på et gakket og stilrent amerikansk garage-udtryk med glimrende omkvæd og melodier med rock'n'roll og hjemmerullet lo-fi. Det er et Urban Achievers-sideprojekt, og det betyder selvfølgelig, man kan blive endnu mere positivt overrasket live. "In love with myself, in love with myself, in love with myself, in love with myself", "I get bored, I get bored, I get bored…" eller "Jerk at work, jerk at work, jerk at work, jerk at work". Det er sjovt og lavet med et formål. Herligt.
Happy Hookers for Jesus er lidt noget andet, men lige så konsekvent som Fright Eye. De har også lige annonceret en 7″ på Vulgar Deformity, og selvom det er nogle af de samme medlemmer som de andre grupper, så er der her mere på spil. Det er mere accentueret vildskab og ondere kompositioner, det er bidsk og gennemført aggressivt. Trio-band med masser af plads til instrumenternes punkede lyd.
"VULGAR DEFORMITY er et nyligt påbegyndt portræt, der har til formål at samle og forevige, hvad der ellers synes fortabt. Vi har en række åbenlyse idealer, men ser nødvendigvis ingen grund til at vægte dem i en sådan grad, at det overordnede billede bliver unuanceret og ensporet bare for at være det."
Happy Hookers for Jesus giver koncert 1. november på Bakken/gratis (RSVP). Fright Eye s/t udkommer i 25 ex. på kassettebånd snart. Happy Hookers for Jesus s/t udkommer i 250 ex. på 7″ senere. Urban Achievers udgiver lidt senere igen debut-7″ på Hjernespind.
previous post: Bright Kids –

debutudgivelse med flashback til et klubværelse i 90'erne